More intelligent SynthDB Search – SynthDB-Suche intelligenter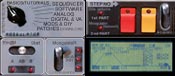 Hi there, I noticed some of you typed in Manufacturers names into the synthDB search field – also I programmed a lot of help when a manufacturers name is part of the synth name like "Minimoog" oder "Microkorg" – The SynthDB now offers the right link and lists some more related stuff and to search the news (this site) or global search or even the wiki. Hope you find it helpful. And yes: It's 4 databases of different kind here still, I'm working on it and reduce it sooner or later to less search options – some day.
Tach, die Datenbank ist jetzt etwas schlauer als vorher: Wenn einer fälschlicherweise einen Herstellernamen eintippt, wird das bemerkt und es gibt ein bisschen Hilfe. Auch Hilfe gibts, wenn der Herstellername im Synthesizernamen vorkommt, zB Minimoog oder Microkorg. Es werden dann noch Suchangebote vorgeschlagen, wenn du mal irgendwas eingegeben hast, was kein Synthesizer sein kann. zB kann er dann hier suchen (diese Site, also die News), global (also überall) oder im Wiki. Mehr davon kommt irgendwann. Hoffe es hilft beim finden und erhöht die Treffequote. Ja, ich weiss: Suche ist hier bei 4 verschiedenen Datenbanken echt verwirrend. Da arbeite ich dran.