TMSS Theis Modular Synthesizer

note: the name of the system is NOT moogulatorium as it looks in the peter forrests (very good) books,
it's only the name of my site ;) it's simply the TMSS (theis modular)
theis tmss cv-to-midi interface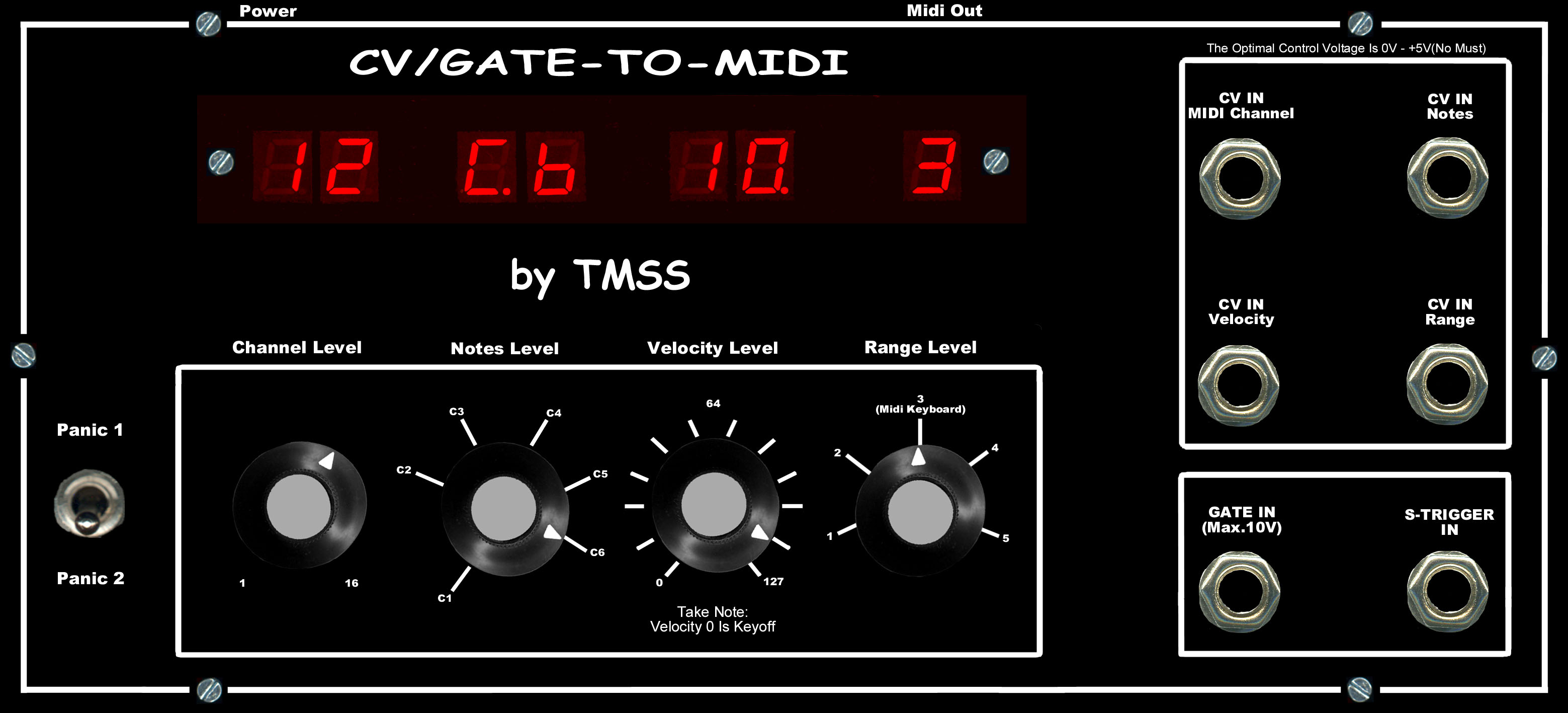 info (deutsch)
Direkte Info von Horst Theis dazu - Was macht dieses Interface und wozu ist es da?
CV to Midi.. yes, this is for Voltages to Midi!!

nicht wie üblich von Midi nach CV, sondern umgekehrt, so kann das Modularsystem mal eben ein paar Midi-Signale erzeugen..

Alten Analogsequencern Midi beibringen.
Steuerspannungen in Midi umwandeln.

CV/Gate to Midi verschickt nur dann Midisignale
wenn ein Gate/S-Trigger anliegt.
Echtzeit Hören im Ablauf ist möglich.
Der Wert Velocity 0 erzeugt Notenlücken,(Key Off) und läßt sich somit fürs Timing gebrauchen.

Gesteuert werden per CV (0V-+5V) (Höhere Spannungen können per Levelregler gesenkt werden.)

Midi Channel (zb.Sequencer Spur 1)
Notenwert (zb.Sequencer Spur 2)
Velocity (zb.Sequencer Spur 3 oder LFO)
Range(Oktave)(zb.Sequencer Spur 4 oder S/H)
(Glide am Sequencer sollte man dann abschalten.)
(danke für die Info..)
Da es beim ein/aus Stecken in die Gate-Buchse während der Sequencer läuft,
zu Notenhängern kommen kann, wurde noch ein Panic-Schalter eingebaut.

Panic 1:Sendet den üblichen All Key Off Befehl.
da nicht alle Midigeräte damit klarkommen(zb.DX7)
wurde noch Panic 2 eingebaut.
Panic 2:Poly on/All Key Off


VCO
VCF Lowpass
VCF Highpass
S&H & Noise (pink&white)
Ringmodulation & LFO
Octave "Ranger"
.......
.......
Phasing & LFO Modul.
MIDI ......................... Glide
LFO (4 outs!!) ................dual LFO / doppel LFO
Gate Share
Clock Share
Sequencer 2x8
Hüllkurve - Envelope (normal)
Dual Envelope (Doppelhüllkurve)
..........
TMSS Theis Modular Synthesizer System
contact at bottom of this site
Patchbays..
| | |
| --- | --- |
| | |
| adsr envelope cv controlled | adsr envelope |
| | |