Synthesizer Database
Oberheim OB12
viscounts "oberheim" VA - the non oberheim oberheim synth ;)

back to OBERHEIM SYNTH MENU - zurück zum OBERHEIM SYNTHESIZER MENÜ


enlarge? click image.. pic thanks to Jörg quick access DB: ob12

OB12
let me say this: this is not oberheim! it's the name bought by viscount, an italian organ company. viscount. the rights may went back to gibson (the guitar stuff, you know?)..
and it is of course a VA, so it is not analogue and it is far from sounding analogue..

the oberheim matrix 1000's are also being (were) sold by viscount.
Means: Tom Oberheim is not envolved in this project. he also said it's not worth to emulate the circuitry of anlague synthesizer ;)
if you want to update it follow these steps using midi ox or "sysex" or any software sequencer with sysex filters disabled.:
1.)Boot
2.)CPU
3.)DSP
4.)Programm
5.)Timbre

ok, this blue synth looks quite good, hardware wise, also has FX on board and a moderate sounding filter section.
but the biggest thing here is:
it has latency! yes, it is the synthesizer, that has a remarkable time to fire up a voice when pressing a key. also the attack set to zero is quite audible as attack time.
ok, since oberheims matrix and xpander also never had very fast envelopes, they might not fell themselves forced to work on the problem? but here you really hear attack time even if it is set to 0 / no attack time. and thats - for me- not acceptable. even the roland d70 has less latency.. also there are difficulties in updating, stability and stuff..
I do not like to just "bash" something.. but something may went wrong with this or it's not finished yet.
the sound is obviously virtual. not analogue. for thin sounding things it is a choice. but the versatility is a bit limited by the thin and latency-behaviour. but it looks nice:

back to OBERHEIM SYNTH MENU - zurück zum OBERHEIM SYNTHESIZER MENÜ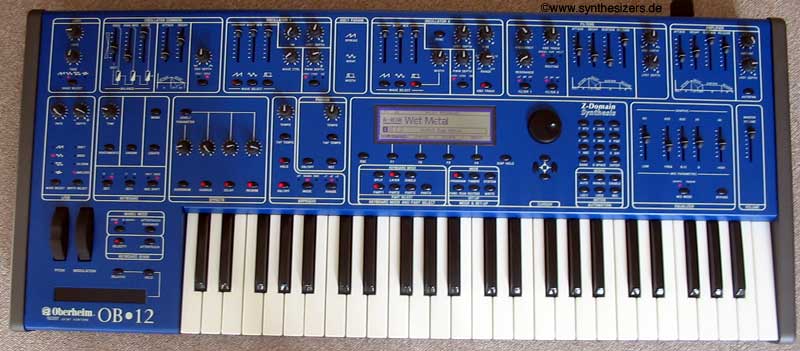 quick access DB: ob12

check the real OBERHEIM stuff here:

back to OBERHEIM SYNTH MENU - zurück zum OBERHEIM SYNTHESIZER MENÜ