DRM16 Drummachine/Module + simple sequencer
SPECS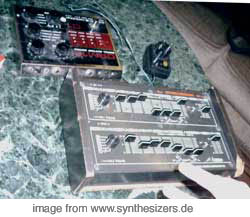 Electro Harmonix DRM16..
click image to enlarge - Bild klicken zum vergroessern
other ELECTROHARMONIX gear..


ABOUT simple preset drum machine.. has matrix like variations from the rhythm selected with 2 knobs, Vari 1-4 and (funk,disco,rock,misc) also cymbals (long/short and wood block switch), very old style sounds with "piuuu tom" , space drum switch on the back..
ABOUT preset drummachine mit sehr niedlichen sounds inkl. "space drum = piuuu tom", bd,sd (very old sounding!), HH/OH,tom, woodblock
ABOUT
DETAILS 6 drum sounds, 3x out
DETAILS 6 drum sounds, 3x out
DETAILS
SOUND very cute 70ies sounds, reminds of cabaret voltairs frist tracks..
SOUND sehr niedlich drumsounds, erinnert an sehr frühe cabaret voltair beats..
SOUND