Multimoog Analog Synthesizer
SPECS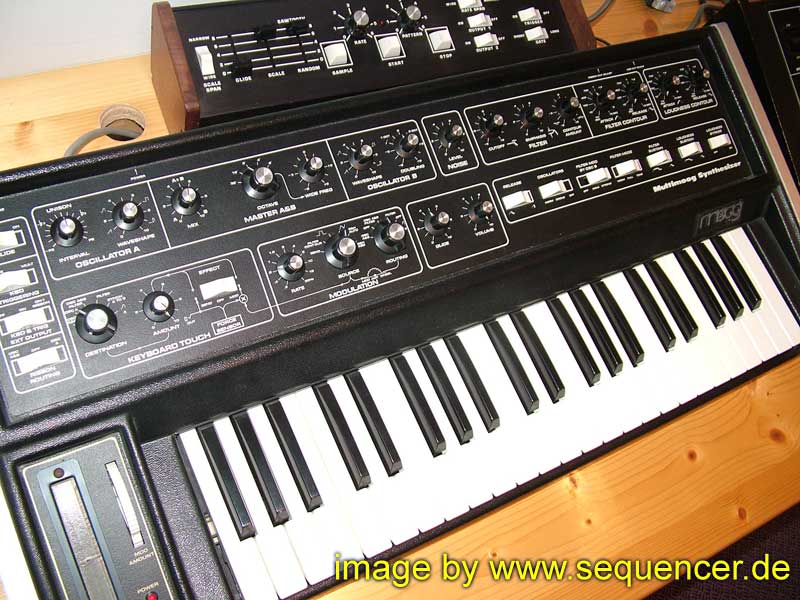 click image to enlarge - Bild klicken zum vergroessern
other MOOG gear..


ABOUT the larger brother of the Micromoog. has ribbon controller for pitch mod and a force sensor (aftertouch)
ABOUT Der große Bruder des Micromoog. hat ribbon controller für pitch und sogar aftertouch (force sensor).
ABOUT
DETAILS interesting Mod-Bus (well its 2 busses,at least) like the Voyager has: Source and Destinatioon Knob, inkl S+H. filter mod by VCO (switchable). env: switches for release, release filter-ENV and amp-ENV release by 2 switches, it has a force sensor that can mod filter or VCO(s) via mod bus.
DETAILS hat einen (eigentlich 2) Mod-Busse wie Voyager: mehrere Quellen und Ziele inkl S+H, filter mod. durch VCO (schaltbar). env: Schalter für Release, Release filter-ENV and amp-ENV release durch 2 Schalter. dazu den Force Sensor (Aftertouch), der Filter und VCO(s) modulieren kann (Mod Bus)
DETAILS
SOUND bass stuff, good live synth, has ribbon and force sensor and the mod bus which is very nice on stage. no minimoog in fatness, but it's a really good performance synth.
SOUND bässe, guter livesynth durch force sensor, mod bus und ribbon guter Ausdruck möglich. sicher kein minimoog, aber die möglichkeiten machen wirklich spass.
SOUND
VERSION smaller version: micromoog.
VERSION kleinere version: micromoog.
VERSION