Rogue Analog Synthesizer
SPECS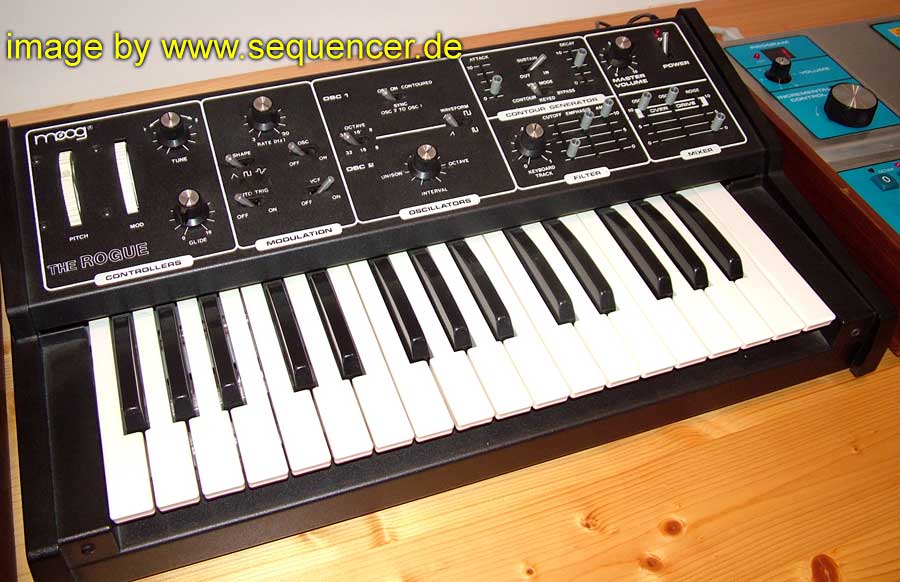 click image to enlarge - Bild klicken zum vergroessern
other MOOG gear..


ABOUT the Rogue is a nice cheap moog. quite simliar to the Concertmate MG1
ABOUT Der Rogue sollte eine preiswerte Alternative sein, wirklich günstig. Ähnlich wie Concertmate MG1
ABOUT
DETAILS simple synth with same waveform for each VCO. one env with switchable AD or AS characteristic.
DETAILS einfacher synth mit gleichen Wellenformen für beide VCOs. eine Hüllkurve mit AD oder umschaltbar AR charakter.
DETAILS
SOUND basses
SOUND bässe
SOUND
VERSION concertmate MG1 quite similar exept the waveforms can be set on each VCO. same as Moog taurus 2 but with foot keyboard instead for bass players.
VERSION concertmate MG1 ziemlich ähnlich, hat aber pro VCO einen wellenform-schalter, moog taurus 2: dasselbe aber mit fusspedalen für bass.
VERSION