Chroma Analog Synthesizer
SPECS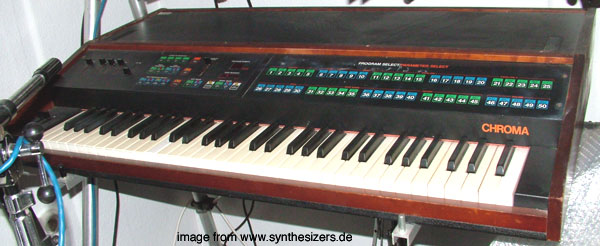 Chroma
click image to enlarge - Bild klicken zum vergroessern
other RHODES gear..


ABOUT the Chroma is originally made by ARP but they had a problem, so they close in 1982 and sold the Chroma to Fender Rhodes, the Chroma consists of 2 VCO-VCF-VCA channels that can be routed by several "algorithms" to get sync, ringmod, filterFM.. of course one channel is one voice, so most sounds will be 8 voice. later versions got midi, also as retrofit kit incl. SysEx edits via computer.
ABOUT Eigentlich ist der Chroma ein ARP, Fender Rhodes haben ihn allerdings aufgekauft, da sich ARP an ihm vorhoben haben, er hatte ein neues Konzept und lässt je einen Strang aus OSC-filter-Amp miteinander agieren: Sync, FilterFM. ring oder sync in schaltbaren Algorithmen (also alternativ), es gab später sogar MIDI nachrüstungen inkl SysEx Steuerung. Natürlich ist er dann 8stimmig.
ABOUT
DETAILS LFOs got masses of waveforms incl. some "patterns" , btw. they are called sweep generator in the Chroma, the envs are not full ADSRs, but you could modulate them (!!hey , that was 1982!!), aftertouch was optional.. independent glide per VCO (cool for sync). Hardware: 8 CEM3350 Dual VCF 8 CEM3360 Dual VCA (some versions have 9)
DETAILS Die LFOs haben ne Menge Wellenformen inkl div Muster, sie nennen sich "Sweep Generatoren" im Chroma, die Hüllkurven sind keine kompletten ADSRs, können dafür aber moduliert werden (Hallo,das war 1982!!). Aftertouch konnte damals nachgerüstet werden. unabhängiges Glide pro VCO (nette sync spielereien möglich dadurch). Hardware: 8 CEM3350 Dual VCF 8 CEM3360 Dual VCA (some versions have 9)
DETAILS
SOUND cool sounding leads, basses and sweeps.. rich modulations and dynamic, not to go on stage, it's a bit hard to repair (and sometimes it need repair..)
SOUND gute Leads, Bässe und sweeps.. modulationsreich und dynamisch, nix für live, ist etwas anfällig
SOUND
VERSION keyless expander version was available,too, Optional: aftertouch (some models), MIDI retrofit kit
VERSION tastenlose expander version gab es auch. Optional: aftertouch (manche modelle), MIDI nachrüstungen
VERSION