D50, D550 Digital Synthesizer
SPECS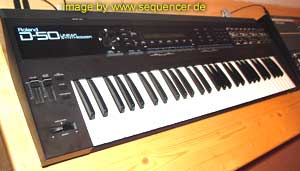 D50, D550
click image to enlarge - Bild klicken zum vergroessern
other ROLAND gear..


ABOUT the LA-Synthesis was introduced and the D50 sold well after the big DX7 success (yamaha). it had some samples like the shakuhachi along with 2 OSCs and upper + lower structure, there was a 3rd party multimode expansion available (when using it all the D50 was 8 voice polyphonic. samples could not be filtered.
ABOUT nach dem großen Erfolg des DX7 kam dann die LA-Synthese des D50, Samples im Stile eines Shakuhachi Samples kamen zusammen mit einer klassischen 2-OSC Struktur mit ins 6 LFOs, bei Nutzung alles Stimmen mit upper + lower struktur, war er dann 8 Stimmig. Samples waren nicht filterbar.
ABOUT
DETAILS one structure has 2 OSCs, so combining them it is 4 OSCs and 3x2 = 6 LFOs. per structure it had a pitch env and one per filter and one for amp. programmer: pg1000 (expensive these days) for editing with knobs.
DETAILS eine structure hat 2 OSCs, daher hat die zusammen 2x2 = 4 OSCs und 3x2 = 6 LFOs, dazu kommen je eine pitch ENV und pro Filter und Amp je eine Mehrsegment-ENV (wenn lower + upper genutzt). Programmer: PG1000 (teuer) für direktes Editing mit Knöpfen.
DETAILS
SOUND pads and basses
SOUND pads und bass
SOUND
VERSION D550 rack
VERSION D550 rack
VERSION