W30 Digital Synthesizer + workstation sequencer
SPECS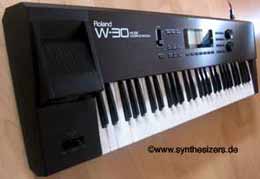 W30 pic thx to joerg
(
link
)
click image to enlarge - Bild klicken zum vergroessern
other ROLAND gear..


ABOUT a sampler with RAM and ROM samples, along with the S50 sampler it was the wirst sampling workstation from roland, also the monitor edit was very special (internal edit mode on the S50 sampler.. using a TV), 12 Bit.. Also a Sequencer in there .. often used by prodigy (live I saw 2 of them..) - strange - got rare these days. want it stereo: 8 voices. Hack Mode (at your own risk) Press "user" twice - enter "user setting" mode. while keeping tempo pressed, trigger F1 twice quickly.
ABOUT Ein Sampler mit ROM Wellenformen und Sequencer, wenn auch eher wenig RAM, es ist eine Workstation und in etwa auf dem Level des S50, 12Bit. Prodigy haben davon sogar 2 auf der Bühne gehabt. seltsam rar geworden inzwischen. Stereo mit 8 stimmen.
ABOUT
DETAILS disc drive (DD) to save the samples. 12bit / 30khz sample rate, plays at 16bit, no FX. one of rolands sample based workstations. well the sample rate wasn't that high,but together with the sampler s50 it started some sample based boom. no cutoff mod in realtime
DETAILS disklaufwerk (DD) an bord. 12bit / 30khz sample rate, spielt ab mit 16bit, keine Effekte, keine cutoff mod in Echtzeit.
DETAILS
SOUND LoFi Samples / at its time it was a real bread and butter workstation..
SOUND LoFi samples / damals normale Workstation für MIDI Studios..
SOUND
VERSION SCSI with KW-30 upgrade / V1.10
VERSION SCSI mit KW-30 upgrade / V1.10
VERSION