AVS04 Modular Synthesizer + step sequencer
SPECS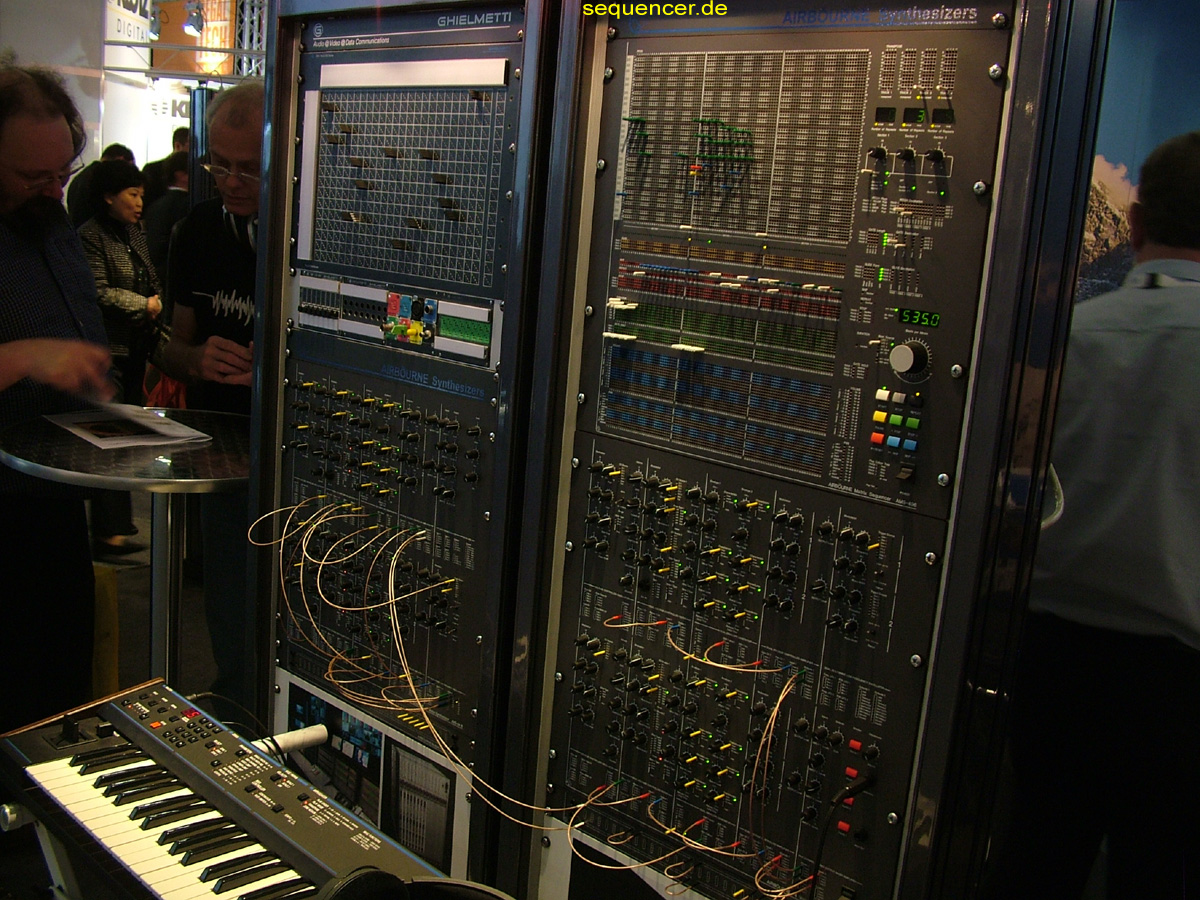 Airböurne AVS-04 Synthesizer FPGA Technology
click image to enlarge - Bild klicken zum vergroessern
other AIRBOURNE gear..


ABOUT Martin Hollinger who is running the swiss Synth Museum Synthorama showed his Airböurne AVS-04 on the swiss synthesizer meeting in oct. 2006, it's a modular system based on FPGAs, the filters are modelled after the moog filter modules.

Colour coded pins are used to trigger notes in the sequencer shown in 2009, 4 colours represent tones and notes in the sequencer. it can not save sounds, but it's digital but it can handle analog voltages like modular synths.
ABOUT Martin Hollinger vom Synthorama Museum Schweiz zeigte auf dem Schweizer Synthesizer Meeting 2006 zum ersten mal einen Prototypen seines auf FPGA Technik basierenden Modularsynthesizer.
2009 zeigte er den 4stimmigen Step-Sequencer dazu, der mittels kleiner Pins programmiert werden - Jeder der 4 Farben steuert eine der Stimmen. Speichern ist nicht möglich, obwohl es digial ist, nach außen arbeitet er wie ein analoger Modularsynth mit 4 Stimmen.
ABOUT
DETAILS Martin commented about his first Proto in 2006, of course there will be more soon.. multiphase LFOs, up to 4 ringmods etc.

The Sequencer reminds of Jean-Michel Jarres Sequencers made by Michel Geiss.
DETAILS von Martin Hollinger selber anno 2006 über seinen Prototypen:

Der zweite Teil des Synths steht nun auch bereit. Damit hat er also alle 4
Stimmen und 8 Filter sowie 8 Hüllkurvengeneratoren. Auch die
Rauschgeneratoren, die Random-CV und der Mehrphasen-LFO ist bereit.

Falls es mir reicht, werde ich das Midiinterface noch anpassen, dass es auch
mit zwei gedrückten Tasten korrekt funktioniert ;-/ Defaultmässig steht das
Interface im Moment auf monomode.

Die wildesten Sachen werden über meine VCF geschrieben.
BPF sind und waren nie vorgesehen. Zur Zeit funktionieren die LPF mit 12, 18
und 24 dB. Ich habe an den HPF lange gearbeitet und bin nicht zum Ziel
gekommen mit meiner Technologie. Ich vermute, dass die 80 Bit
Rechengenauigkeit nicht ausreichen für einen HPF. Um das Projekt nicht noch
mehr zu verzögern, habe ich zur Zeit erst mal die LPF eingebaut in der
Hoffnung, durch Umprogrammieren der Filtermodule mittelfristig auch HPF
realisieren zu können. Einen Zeitplan dazu habe ich aber nicht.

Das Midiinterface ist hinten und nimmt niemandem Platz weg.
Der Unterschied zwischen den beiden Synthteilen AVS-04A und B ist in der
rechten der fünf Spalten:

AVS-04A
2 LFO, synchronisierbar

4-Kanal Output Mixer, Kopfhörerverstärker
Vorhören der Eingangssignale vor den Lautstärkereglern

AVS-04B
Ringmodulatoren, je nach Beschaltung 2, 3 oder 4 Stück

2 unabhängige Random-CV-Signale

Rauschen weiss, rosa (-3dB/Okt.), rot (-6 dB/Okt.)

Mehrphasen-LFO, synchronisierbar
wählbar 3- oder 4-phasig

Die anderen Spalten sind baugleich, mit der Ausnahme, dass ein VCO auf Teil
A noch auf 440 Hz gestellt werden kann.

Das Gehäusehinterteil ist zur Zeit erst provisorisch und wird in den
nächsten Monaten durch eine Metallabdeckung ersetzt.

Zur Zeit bekannte Fehler:

Hüllkurvengeneratoren:
Für den Loop-Mode muss der Verbindungsstecker bei Release eingesteckt werden
und nicht bei Loop. –> Softwareanpassung bei der nächsten Version

VCF
12dB und 18 dB haben Rauschstellen bei unterschiedlichen Resonanzhöhen –>
Fehler in der Koeffiziententabelle, wird gelegentlich korrigiert.
Ext. filtereingang schaltet verkehrt (schaltet sich ab, wenn was eingesteckt
wird). Den Fehler muss ich noch suchen, eventuell in einen FPGA.

VCO
VCO läuft weg, wenn er auf "FREE" steht. –> Schaltungsfehler. CV-Eingang
ist dann nicht abgeschlossen. Wird gelegentlich korrigiert.

Output-Mixer
Vorhören der Eingangssignale verursacht akustische Störungen. Fehler noch
nicht zu suchen begonnen, sollte aber nicht so problematisch sein.

Der Sequencer erinnert sehr an den von J.M.Jarre verwendeten Stepsequencer von Michel Geiss, jedoch ist die Farbcodierung das Besondere im AVS-04.
DETAILS
SOUND everything, also very special way of working with the pin-sequencer.
SOUND alles, sehr spezieller Modell-Stepsequencer.
SOUND
VERSION atm (2006) prototype. and sequencer shown on the Musikmesse Frankfurt in 2009, Hall 8.
VERSION Es gibt zzt nur den Prototypen, 2006 Synth, 2009 sequencer.
VERSION