AX80 Analog Synthesizer
SPECS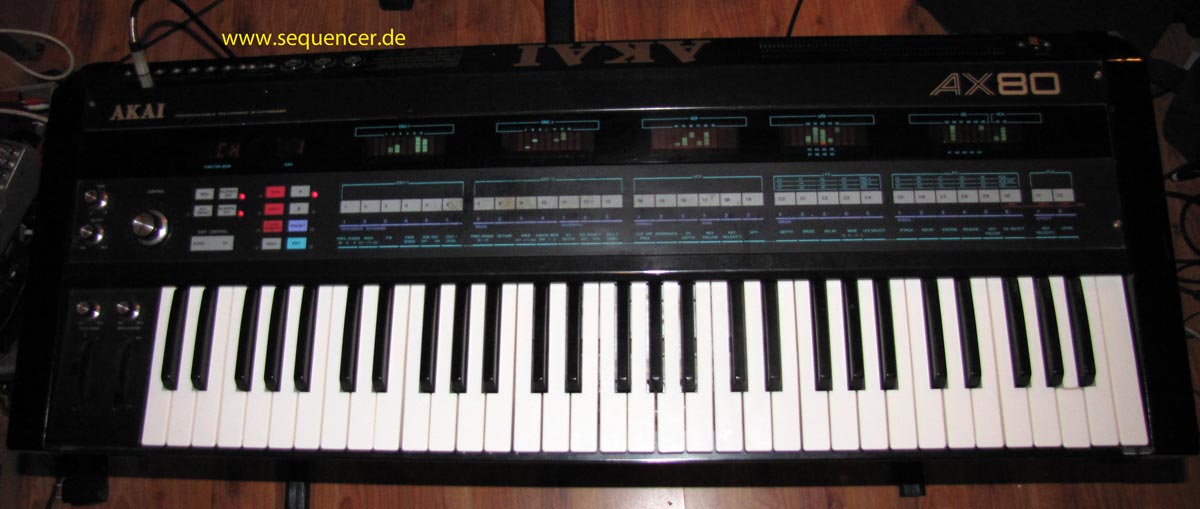 click image to enlarge - Bild klicken zum vergroessern
other AKAI gear..


ABOUT Akai did real nice analog synths those days, this one has a very nice "Kenwood-stereo"-style of Display for all Parameters.
ABOUT Akai hat wirklich gute analoge Synthesizer gebaut, hier sehr übersichtlich mit "Kenwood" -Style Balkendisplay.
ABOUT
DETAILS the AX80/90 are quite "juno'ish" dual OSCed synthesizers with the best display ever: it shows you the parameter setting as a bar graph above the parameter, the AX60 is the smaller and knobbed 6voices version of the ax80 (8voices).. of course it lacks the cool "kenwood" kind of display but has knobs.. ;) it has 3 LFOs and ENVs dedicated to the filter and each of the 2 VCOs, there is Xmod and a subOSC in there ,too.. also a "roland" type hpf (non dynamic, resonance-less), the first VCO has PWM. if you find an ax60: you might prefer it, because it has sliders instead of the (cool) display bar graph.. split function. both have midi . built in 1985/86 AX80 very nice display: Hardware: 6 CEM3372 uP Signal Processor -CEM3372 Filter/Mix/VCA

well ,the PWM has it's own LFO, so it is in fact 4 LFOs.

no dumping of sysex that time, not implemented like the VX600 (thats why all AX/VX lack of a dump function.
DETAILS 3 LFOs (für OSCs und ENV.. gut für xmod FX), tolles display.. CEM Hardware: 6 CEM3372 uP Signal Processor -CEM3372 Filter/Mix/VCA

Eigentlich hat er noch einen weiteren LFO für die Pulsbreitenmodulation des OSC1.

Heller klang, weit heller als zB Juno, brilianter. Aber vergleichbar mit der Struktur eines JX8P plus Subosc.
Die Oscs können beide Wellenformen gleichzeitig abspielen.

Leider kein Sysex (MIDI), sondern einfach nur Polymode.
DETAILS
SOUND nice pads and basses. but a bit grittier or harder than (say) Rolands Junos, rich overtones
SOUND schöne pads und bässe. aber auch etwas bratziger und knochiger als zB Rolands Junos, obertonstark
SOUND
VERSION AX90, quite the same (never came out?)

VERSION AX90, eigentlich dasselbe.. kam er wirklich raus?


VERSION