MPC2500 Sampler + real time sequencer
SPECS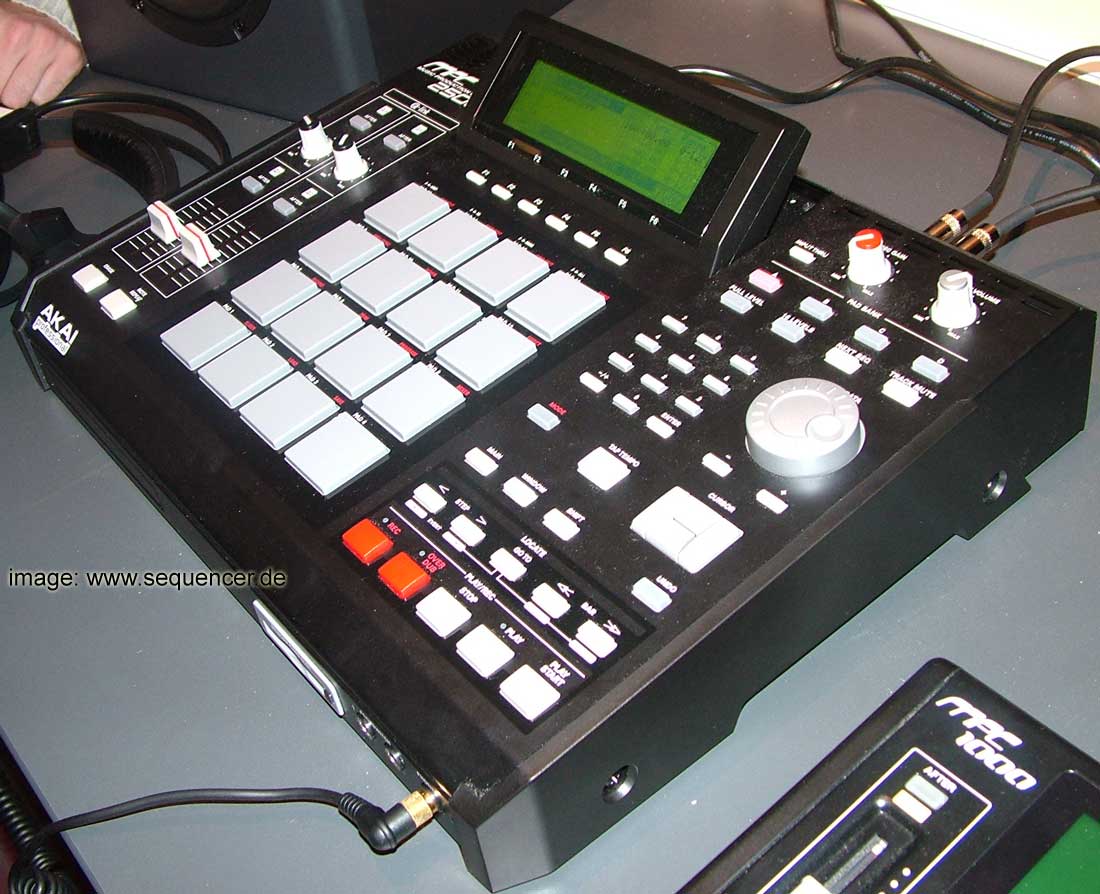 Akai mpc2500 ..
click image to enlarge - Bild klicken zum vergroessern
other AKAI gear..


ABOUT bigger version of the MPC1000 for more sound design (LFOs and ENVs..) with 4 external Midi ports.
ABOUT "große" Version der MPC1000, dafür mit Hüllkurven unf LFOs.. 4 externe MIDI Ports.
ABOUT
DETAILS 44.1 kHz 16bit, Midi, MTC, SCSI, USB.. (FAT16, WAV), compact flash cards, 4 external midi ports for ext. synth control.

envelopes like mpc1000: it's a simple decay with level envelopes per filter. and a simple lfo that can be adjusted to modulate filter 1,2, pitch or amplitude
DETAILS 44.1 kHz 16bit, Midi, MTC, SCSI,USB.. (FAT16, WAV), compact flash cards, 4 midi ports zur steuerung ext. synthesizer.

wie bei der mpc1000 gibt es eine einfache Decayhüllkurve mit Pegeljustage für die Filter jeweils und einen LFO, den man den beiden Filtern einzeln und der Tonhöhe sowie Lautstärke einzeln zuweisen kann. Einfach aber effektiv.
DETAILS
SOUND dynamic sample beats..
SOUND dynamische sample beats.. guter realtime sequencer aber etwas starr für live mittlerweile.. auch wenn viele die mpc gern nutzen.
SOUND
VERSION there's another interesting alternative, the JJOs which replaces the Akai OS and offers grid edits and better / smarter selection and adjustment of parameters in a track.

both the MPC1000 and MPC2500 work with JJOS and are comparable.
VERSION Es gibt noch das JJOS als Alternative zum Betriebsssytem von Akai mit vielen interessanten Möglichkeiten wie eine Art Lauflicht-Gridmodus und schnellem Auswählen mehrerer Parameter

MPC1000 und 2500 sind alternativ und datenkompatibel und auf beiden läuft das JJOS ebenso.
VERSION