Rhythm Wolf Drummachine/Module + TR sequencer
SPECS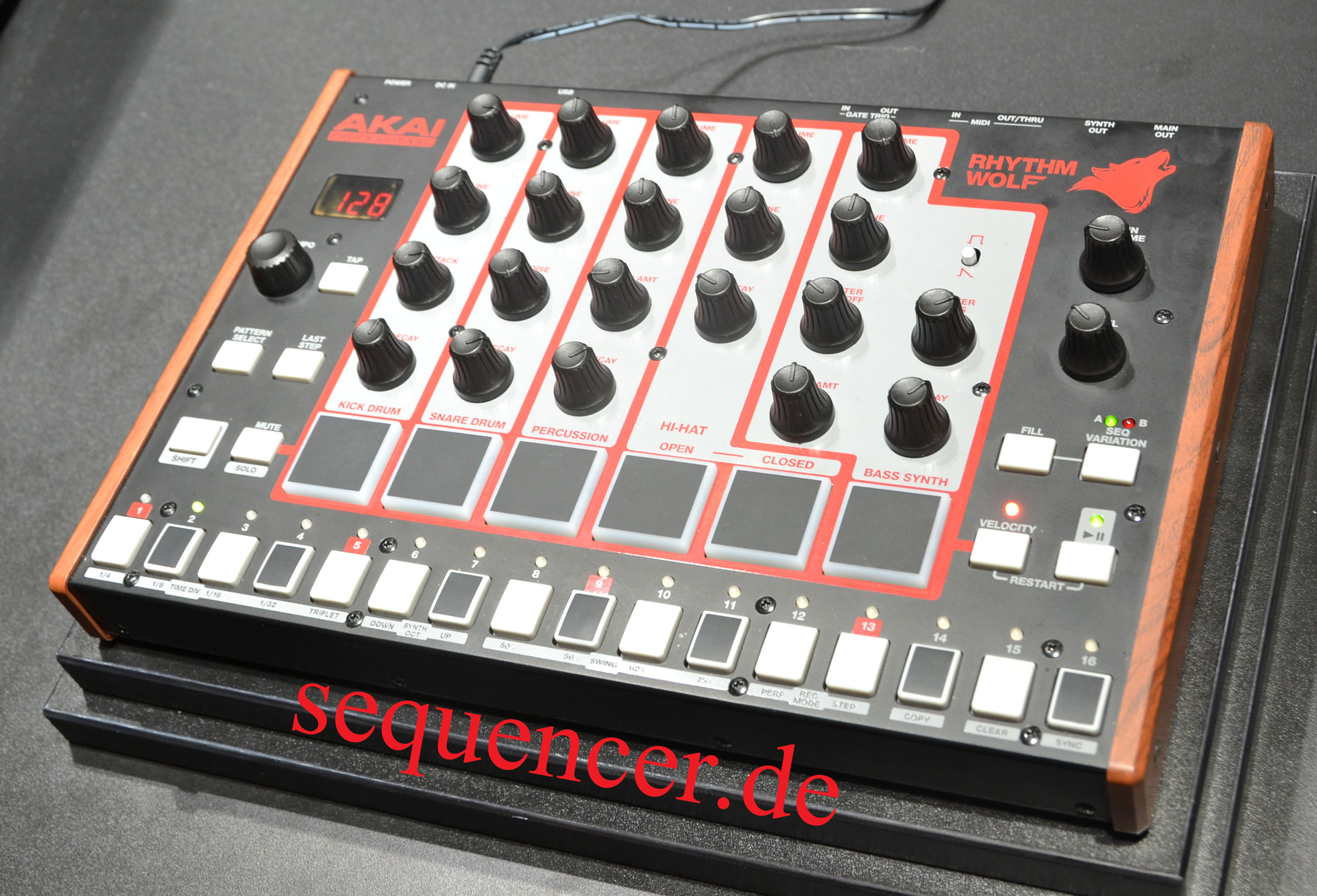 -
click image to enlarge - Bild klicken zum vergroessern
other AKAI gear..


ABOUT an analog drum machine with 5 instruments and one bassline in one box.

super simple with 32 step sequencer.
ABOUT Dies ist eine analoge Drummachine mit 5 Drumsounds und einem melodischen Bass-Synthesizer-Bereich.
ABOUT
DETAILS max. 32 steps

Bass Drum 4 Parameters
Snare 4 Parameters
Percussion 4 Parameters
Hihats 3 Parameters

a bass synth - simple, with 7 parameters, one being the waveform - more like not so snappy kind of basses.
DETAILS Bass Drum 4 Parameter
Snare 4 Parameter
Percussion 4 Parameter
Hihats 3 Parameter

ein Bass-Synthesizer einfacher Art. 7 Parameter (einer davon Waveform) - eher nicht schnappig.

32 Steps maximal
DETAILS
SOUND basic tool for any electro genre

sounds are almost Roland TR/CR style.
SOUND Analoge Sounds im Stile der von Rolands TR/CR Serie und Bassline

- Grundlage für Electro-Stile
SOUND
VERSION Tomcat: uses the 6th sound source, the bassline as tom/conga "disco toms" - so it's sort of melodic as well.

Rhythm Wolf: has 5 drum sounds and a simple bassline section (melodic)
VERSION Tomcat: nutzt Bassline als Tom/Conga für tonale "Disco Toms" - quasi auch tonal/melodisch.

Rhythm Wolf: hat Bassline Synth statt Tom, melodisch.
VERSION