Timbre Wolf Analog Synthesizer + TR sequencer
SPECS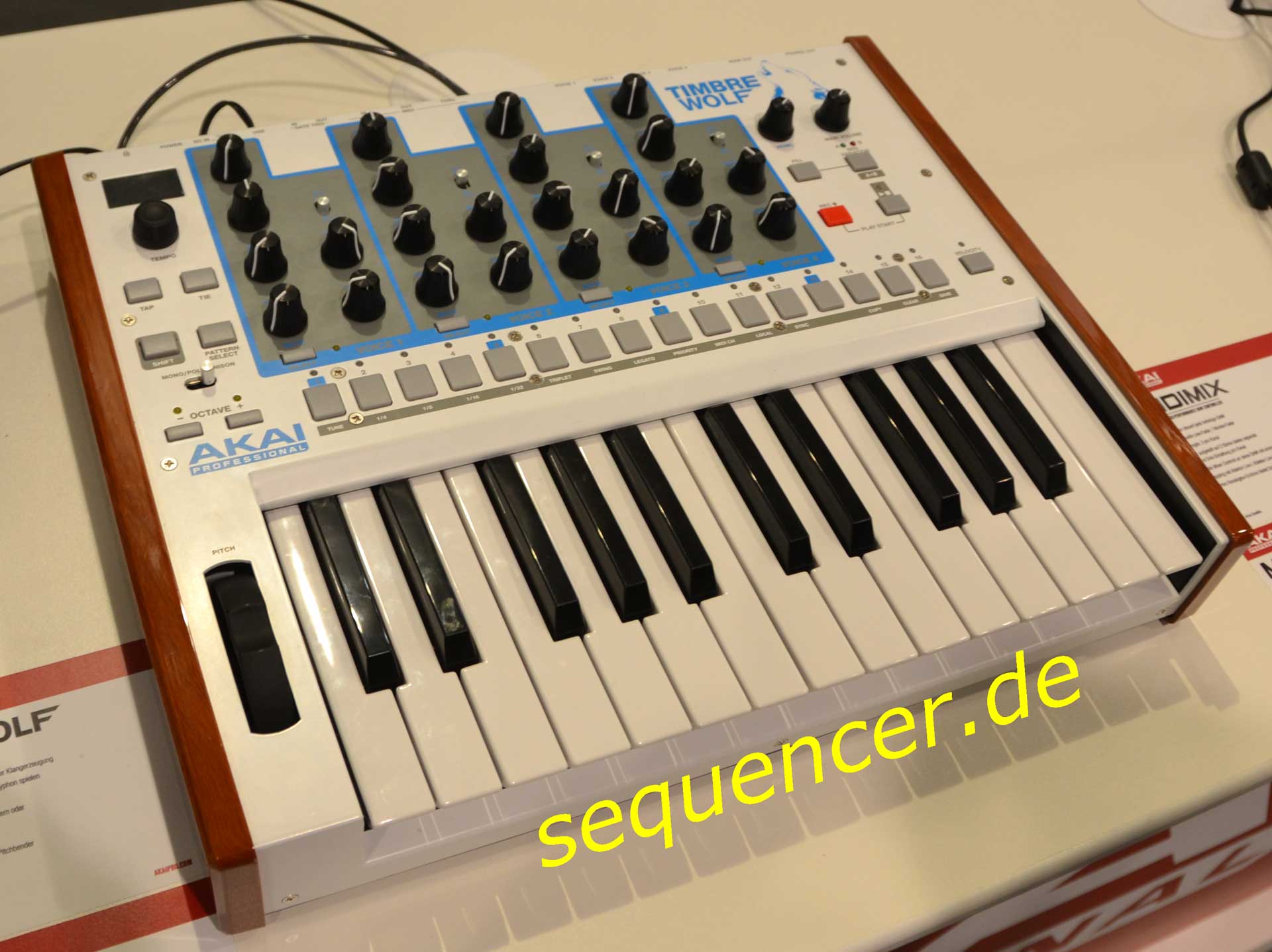 -
click image to enlarge - Bild klicken zum vergroessern
other AKAI gear..


ABOUT this synth is a super simple 7-parameter-synth. it is sort of the tonal section of the Rhythm Wolf and has 4 oscillators that can sound the same or completely different. so it is not too versatile but special.

ABOUT Dieser Synthesizer ist extrem simpel. Mit 7 Parametern werden entweder 4 Mono-Stimmen oder eine Polyphone generiert und ist somit 1-4stimmig mit 1-4 Oszillatoren.

Die Konstruktion ist ähnlich der des Rhythm Wolf
ABOUT
DETAILS max. 32 steps

Parameter:
Volume
Waveshape: Saw / Square
Cutoff
Resonance
Decay (ENV)
Tuning
Env. Amount

that's it.
DETAILS Parameter:
Lautstärke
Sägezahn / Rechteck
Cutoff
Resonanz
Decay (Hüllkurve)
Tuning
Hüllkurvenstärke


7 Parameter
32 Steps maximal
DETAILS
SOUND super simple polyphonic stuff
SOUND einfache Polyphonie
SOUND
VERSION Tomcat: uses the 6th sound source, the bassline as tom/conga "disco toms" - so it's sort of melodic as well.

Rhythm Wolf: has 5 drum sounds and a simple bassline section (melodic)
VERSION Tomcat: nutzt Bassline als Tom/Conga für tonale "Disco Toms" - quasi auch tonal/melodisch.

Rhythm Wolf: hat Bassline Synth statt Tom, melodisch.
VERSION