Airsynth Digital Synthesizer
SPECS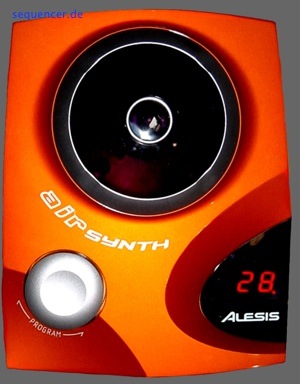 Air-Synth, thx Bernie!
(
link
)
click image to enlarge - Bild klicken zum vergroessern
other ALESIS gear..


ABOUT A very simple synth that plays one of 50 presets by moving your hand over it. it registers 3 controllers called Axyz - 3 axis like the Phantom X25 Remote Series (sold out).

RCA only, maybe they wanted DJs as buyers.No MIDI.
ABOUT Eigentlich eher ein Controller, allerdings ohne MIDI. Über die Handbewegung kann der Synthesizer gesteuert werden und 50 Sounds gepielt werden. Es gibt 3 Achsen, die ausgewertet werden. 7 LEDs machen diesen Job. Alesis nennt das Axyz-Controller (von x-y-z, also 3 Dimensionen)

Etwas doof: Nur Cinchanschlüsse. Kein MIDI.
ABOUT
DETAILS Like the Korg Kaossilator some (3) parameters are controlled, they are always a bit different - so it reminds a bit of a theremin or a controller. so sometimes there IS a filter or something - here and there.
DETAILS Eigentlich hat er schon Klangparameter, diese werden jedoch über die Controller unterschiedlich verteilt - Oder genauer über die 3 Achsen ähnlich wie beim Korg Kaossilator, der über das 2D Pad gesteuert wird.

D-Beam artiger Controller:
Es gibt 3 Achsen, die ausgewertet werden. 7 LEDs machen diesen Job.
DETAILS
SOUND Nice live toy?
SOUND Nette optische Spielerei, vielleicht mal live einsetzen?
SOUND
VERSION there is an effects box feat. the same concept called Alesis AirFX.
VERSION Es gibt noch das AirFx, kein Synthesizer sondern ein Effektgerät.
VERSION