Fusion Digital Synthesizer + midi sequencer
SPECS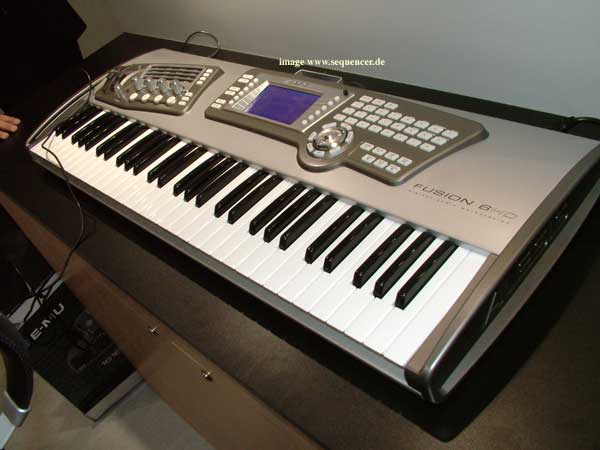 Alesis Fusion
click image to enlarge - Bild klicken zum vergroessern
other ALESIS gear..


ABOUT Alesis multi synthesis 50ies look synth in 3 sizes. "Fusion Engine Synthesis" - Sample Playback, Virtual Analog, FM, Physical Modeling, dynamic voice number depends on what you use... usually below 180 voices..
ABOUT Alesis Multi-Synthese-Schiff in 3 Größen im eher gewagten 50er-Jahre Autoradio-Cadillac Design. "Fusion Engine Synthesis" - Sample Playback, Virtual Analog, FM, Physical Modeling, Stimmen sind natürlich dynamisch und idR etweas weniger als 180..
ABOUT
DETAILS cool Sample and Hold unit, a Real one - LFOs are VERY fast (1khz), all OSC waves can be set in symmetry. routings for sync and FM with 3 OSCs (hard/soft), LFO are being routed in the mod-matrix and the waveform is set in the matrix, too! HD recording 40GB, sampling with 120MB max, free matrix and generation of lfos (8 max) and fm routings, same with VA and pm part, of course not so many osc in VA or pm mode. multitimbral mode normally 8x - Mix: 8 internal/16 external, Song: 16 internal/16 external
DETAILS Sample and Hold Einheit (eine richtige), sehr schnelle LFOs bis 1khz. OSC-wellenformen können in der Symmetrie eingestellt werden. Verschaltungen bei Sync (hard/soft) und FM mit 3 OSCs (!), LFOs werden in der Matrix geroutet und haben erst dort eine Wellenform. 120MB ram max. freie zusammenbaubare modmatrix mit bis zu 8 lfos die einfach "generiert" werden und frei in einer art matrix zusammengebaut werden, recht übersichtlich für die komplexität, HD recording 40GB, sampling, multitimralität idR 8 fach, Mix: 8 intern/16 extern, Song: 16 intern/16 extern
DETAILS
SOUND nice FX but always with some plastic in it.. cool user interface and ideology (free generation of lfos)..
SOUND FX ohne Ende,sehr flexibel und gute bedienung / konzept allerdings mit reichlich VA-Plastikschwurbel..
SOUND
VERSION 3 keyboard sizes from 61 to 88 keys. OS 1.2
VERSION 3 keyboardgrößen von 61 bis 88 tasten. OS 1.2
VERSION