HR16, HR16B Drummachine/Module + real time sequencer
SPECS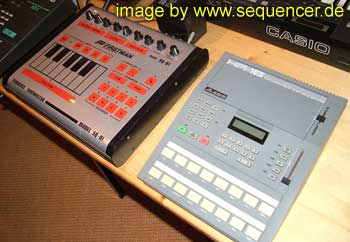 HR16 (A) in grey/grau
click image to enlarge - Bild klicken zum vergroessern
other ALESIS gear..


ABOUT the era of 16bit drum machines brought us this one in MMT8 design. Alesis DrumMachine from the mid 80ies with 16bit Drum Samples (a bit more than 40 Samples, the HR16B (black) Version was even more powerful "rockier" (if I can say this? ..and means: more powerful) and used by the first us bands on the industrial side of life like mentallo and the fixer etc..
ABOUT die Ära der 16bit Maschinen brachte dieses Powerpaket im grauen MMT8-Design, die Sounds der HR16B (schwarz) fand ich allerdings kraftvoller und besser.. bei einigen US acts damals gern verwendet.. habe sie in einem meiner ersten Tracks eingesetzt (save)..
ABOUT
DETAILS midi, 16bit drum sounds, 49 sounds
DETAILS midi, 16bit drum sounds, 49 sounds
DETAILS
SOUND the b sounds cool, can be used for stuff like mentallo & the fixer etc. A version more standard..
SOUND hammer und baller sounds in der B (cool für us electro wie mentallo + the fixer), neutraler in A version..
SOUND