Leipzig S Analog Synthesizer + analog step sequencer
Analogue Solutions
LeipzigS
SPECS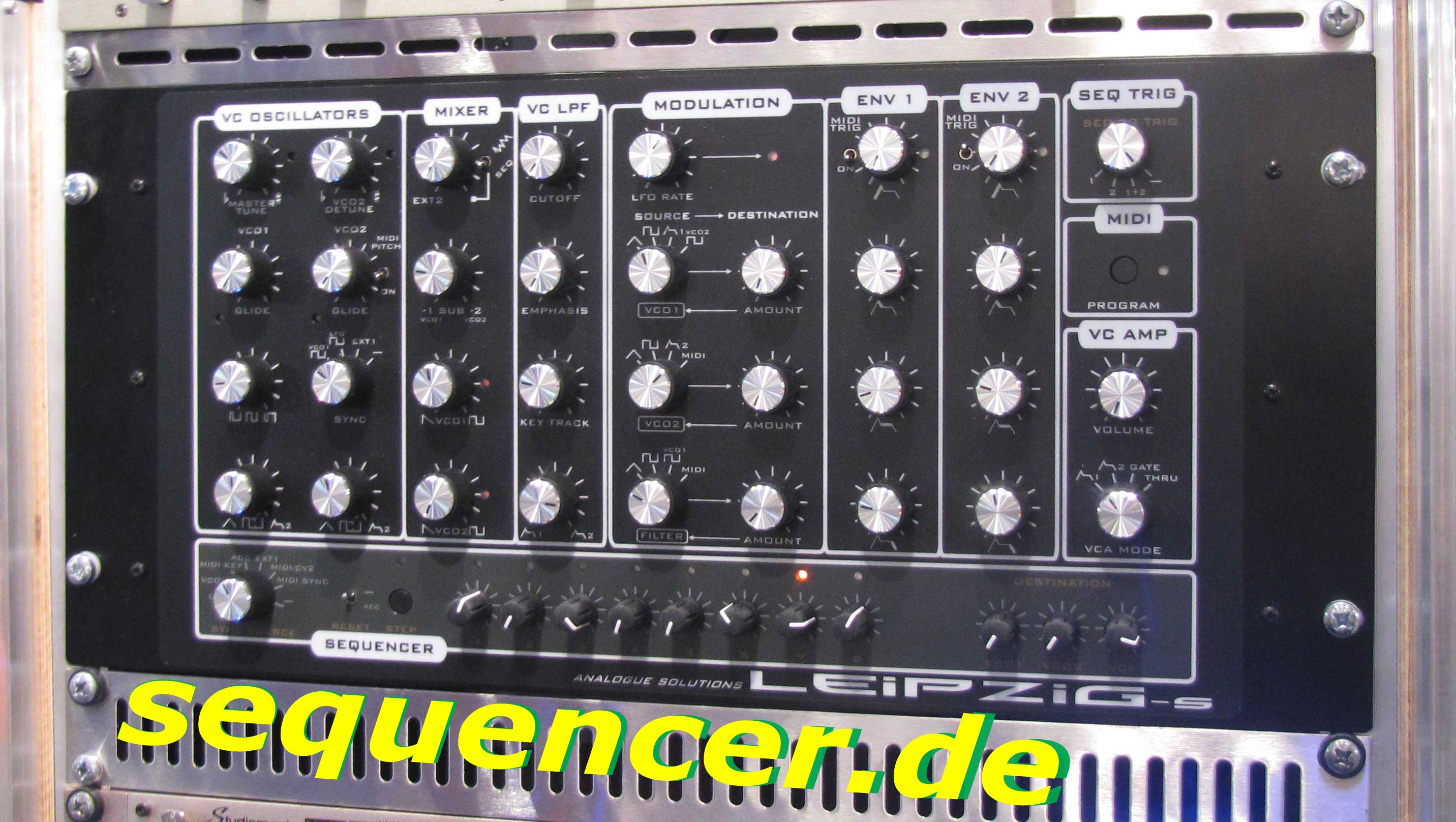 almost like the Leipzig R but with Modsequencer/ADSR Envs
click image to enlarge - Bild klicken zum vergroessern
other ANALOGUESOLUTIONS gear..


ABOUT The Leipzig S is almost like the Leipzig K or R but has full ADSR envelopes and an 8step sequencer (modulated VCO1, 2 or Filter).

Analog Synth with classical design. Has Wavemorphing for VCO Waves.

(Leipzig is a german Town (east)).
ABOUT Erweiterte Version des Leipzig R oder K, er hat denen gegenüber vollständige ADSR-Hüllkurven und einen 8-Step Modulationssequencer mit Modulaiton von VCO1, 2 oder Filter.

Analoger Synthesizer mit klassischer Anmutung. Es gibt ein Wavemorphing, welches bei AS auch im Spawn schon auftauchte.
ABOUT
DETAILS manual morphing between the VCO waves. LFOs waves are set at destination so different shapes of modulations with same speed can be done like on some Yamaha CS synths. Those destinations are not the same for all destinations. they added FM here for the filter.

and as the CS30 it also has an 8-step sequencer (on VCO1,2 or filter)
DETAILS Manuelles Morphing zwischen den Wellenformen (VCO). Die LFO-Wellenformen werden jeweils am Ziel gewählt und können so wie bei der Yamaha CS-Serie unterschiedliche Modulationsformen mit gleichem "Rhythmus" erzeugen (gleiches Tempo). Sie sind nicht identisch bei verschiedenen Zielen (Filter beinhaltet statt LFO VCO Mod, also FM).

Wie der Yamaha CS30 hat er einen einfachen Sequencer mit an Bord.
DETAILS
SOUND Analog Standards and fat basses
SOUND Fette Bässe und Analog-Standards
SOUND
VERSION 37-Key called Leipzig-k or
Rack - Leipzig-r

Leipzig S has sequencer and 2 ADSR envelopes instead.
VERSION 37-Key nennt sich Leipzig-k oder Rack - Leipzig-r

Leipzig S: Mit Sequencer und vollen ADSR Hüllkurven
VERSION