Phobos Red Square , Red Square 2, Red Square Mk 2 Modular Synthesizer
Analogue Solutions
PhobosRedSquare/RedSquare2/RedSquareMk2
SPECS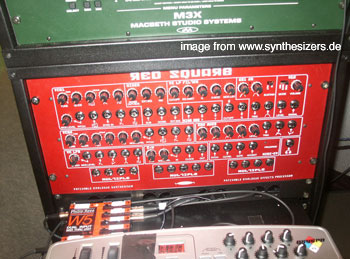 phobos red square mk1
click image to enlarge - Bild klicken zum vergroessern
other ANALOGUESOLUTIONS gear..


ABOUT the Phobos Red Square is quite something like the AS Spawn but bigger , also semimodular with quite special sound character..
ABOUT der Phobos Red Square ist ein wenig wie der AS Spawn, ein halbmodularer mit recht speziellem Sound..
ABOUT
DETAILS patchable.. with this you can patch your modular synth and use the red square as an expander. but also use it standalone and patch it.. it sounded quite "rough", and "british".. nice resonating filter and 2 VCOs, PWM, ringmod, sync, fast lfo!! mk2 looses pwm, CV-lfo. sample+hold
DETAILS patchbar , mk2 hat keine pwm mehr..sync und reso-filter. recht rauh/britisch.. LFO cv steuerbar. sample+hold
DETAILS
SOUND sick and dirty sounds..
SOUND krankes und kaputtes..
SOUND
VERSION 2 Versions, mk2 without pwm.
VERSION 2 Versionen, mk2 ohne pwm.
VERSION