Telemark Analog Synthesizer
Analogue Solutions
Telemark
SPECS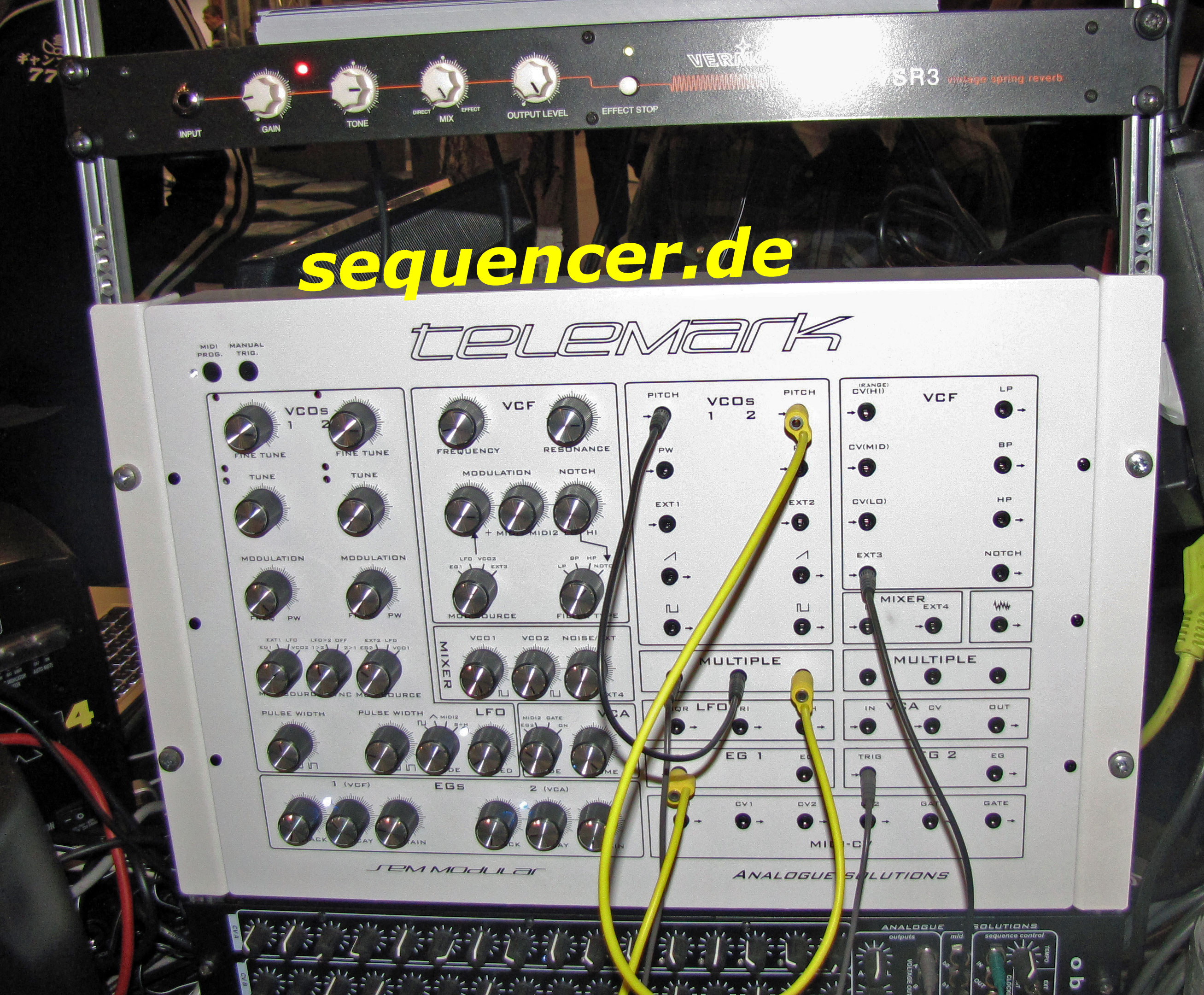 Analogue Solutions patchable Semblance
click image to enlarge - Bild klicken zum vergroessern
other ANALOGUESOLUTIONS gear..


ABOUT like Semblance but with additional patch panel - quite similar to Tom Oberheims SEM Version or the Anyware Semtex.

sort of Oberheim SEM clone with Midi, quite not as many changes like the modular Anyware Semtex, a 4voice Version is in the pipeline..
ABOUT Wie Semblance, Tom Oberheims neues SEM oder der Anyware Semtex mit modularem Patchfeld (der Semblance hat kein Patchfeld).

eine Art Nachbau des Oberheim SEM mit Midi, sonst weniger Änderungen als beim Anyware Semtex, es ist auch eine 4voice-Version in Planung..
ABOUT
DETAILS the filter allows "morphing" from LPF to Notch to HPF, alternatively it can be switched over to BPF mode. allows V/Oct control. it really sonically reminds of the SEM's .. it's 12dB/oct filter is like the sems crassfadeable from LPF to HPF via notch. it also has BPF mode. the routing is quite SEM'ish ,too but noise is integrated (the original had noise and S/H only with the sequencer - 2,4,8voice models) this is of course not for very very new sounds, but for very very GOOD and richt / warm sounds. there are not too many filters and VCOs around sounding like THIS! it is quitre close.. but I did not compare it.. just from the things I remember ;) we also did a nice modular version modelled after the oberheim SEM .. DIY later "ready to buy" version called SEMtex universal synthesizer module"... in german: es gibt eine weitere Alternative zum Oberheim SEM oder Semblance, das SEMtex von Anyware mit Sync, FM, 2 SubOScs , modular...
DETAILS erlaubt morphing von LPF über notch bis HPF und ist alternaitv umschaltbar auf BPF, kann mit V/Oct gesteuert werden.
DETAILS
SOUND wide and big pads and sweeps with soft character, one of the best you can get. very close to oberheim SEM module very smooth and nice and warm sounding , same features as oberheim SEM but FM and some mods added. not cheap but sound quality is high! quite simple midi on the semblance, that point goes to semtex again..
SOUND flächiges und tolle sweeps, weiche Klänge kann er so breit und voll wie kein anderer.. nahe am original, eher einfache Midi-Anbindung..
SOUND
VERSION mk2 has little improvements..
alternativly: Sembalance without the patch panel
VERSION mk2 hat kleine Verbesserungen..
Alternativ: Semblance ohne Patchfeld
VERSION