Minimoog V software
SPECS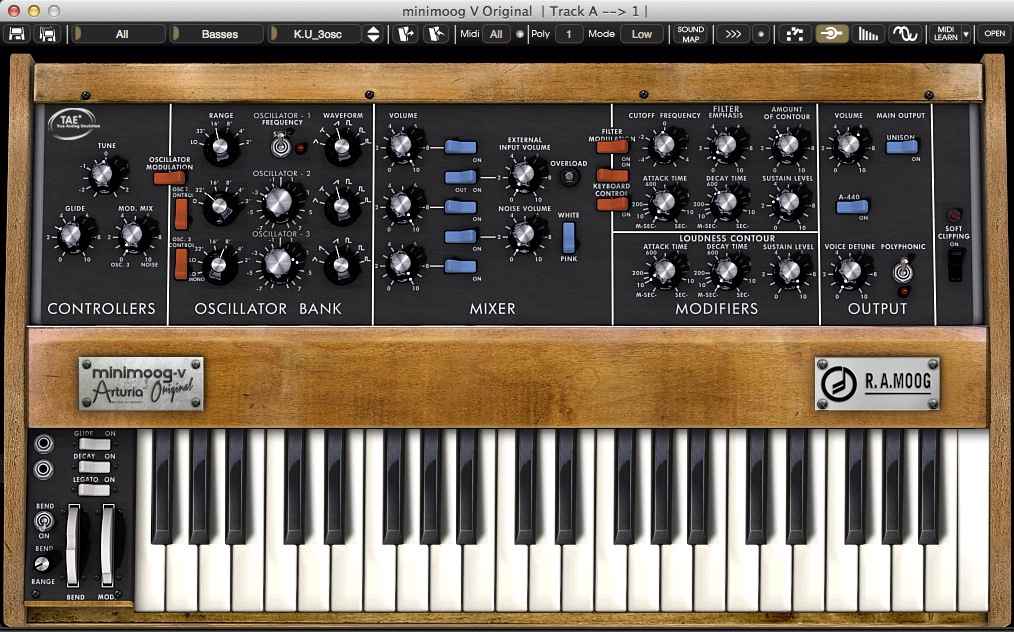 minimoog v
click image to enlarge - Bild klicken zum vergroessern
other ARTURIA gear..


ABOUT software clone of the Moog Minimoog
ABOUT Software-Clone des Minimoog
ABOUT
DETAILS The mini has 3 VCOs, the 3rd often works as LFO (LO setting) for modulation (moog modulars do not distinguish LFOs and VCOs), so it also works as FM source. btw: All OSCs have a LO setting. fast envelopes. has 2 slot modmatrix and additional LFO and fx (delay, chorus)
DETAILS Der Mini hat 3 VCOs, einer davon kann als LFO dienen oder für FM genutzt werden. übrigens haben alle VCOs eine LO-Stellung .der bekannteste Trick ist sicher das Feedback des Ausgangssignals zurück in den Mixer um den Sound anzudicken. schnelle hüllkurven! Fußlagen 32 bis 2. bietet zusätzlichen LFO und 2fache Modmatrix + fx (delay, chorus)
DETAILS
SOUND fat basses and leads, percussion
SOUND fette bässe und leads, perkussion
SOUND
VERSION as true as sopftware can be.. mac + pc / XP / OS X.
VERSION so echt wie software sein kann, für mac und pc (OSX und XP)
VERSION