Origin Modular Synthesizer + analog step sequencer
SPECS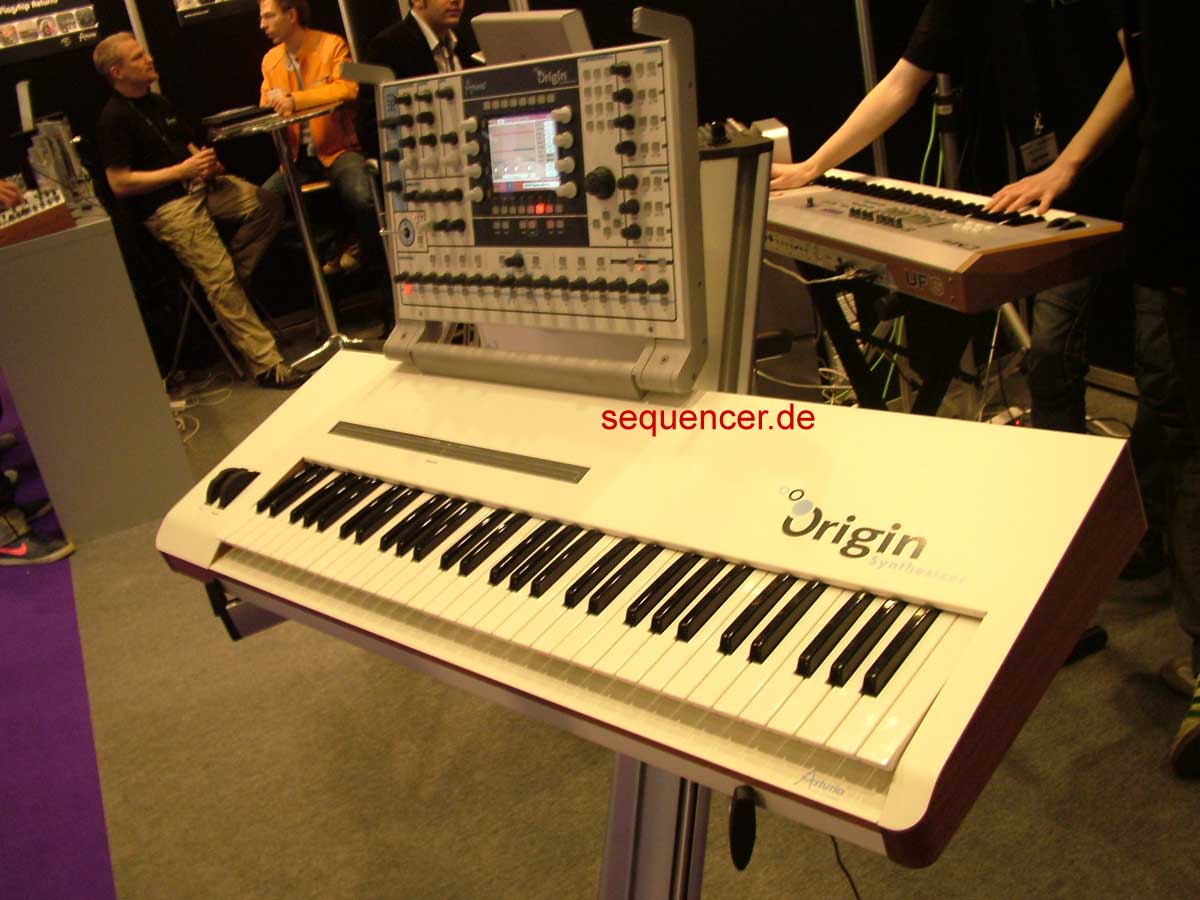 Arturia Origin
click image to enlarge - Bild klicken zum vergroessern
other ARTURIA gear..


ABOUT Hardware version of the soft emulations by Arturia with 32 Step Sequencer and full Emulation identical to the software versons Moog Modular V, (yamaha) CS80V, Prophet V (vs + prophet 5), Roland Jupiter 8, ARP 2600 V, you can use any of these synths components like a Moog filter with 2 ARP OSCs etc.. Assumably the Jupiter + Prophet may not be in here? (wasn't on the list on the NAMM 2007)

Added: Oberheim SEM filter type since 2012
ABOUT Hardwarevariante bisheriger Software-Emulationen bekannter Klassiker mit 32 Step Sequencer und komplette Emulation identisch mit Moog Modular V, (yamaha) CS80V, Prophet V (vs + prophet 5), Roland Jupiter 8, ARP 2600 V. Es können aus jedem der Synthesizer Module frei arrangiert werden (anders als bei der Software) und ist damit modularer als diese. Der Jupiter wird evtl nicht Teil der Hardware sein? Er war zumindest nicht auf der Liste auf der NAMM2007, ebenso wie der Prophet.

Seit 2012 gibt es auch ein Oberheim SEM als Filtertyp.
ABOUT
DETAILS the arturia soft is not freely configurable, but it offers a lot of modules 3 VCOs, 9 VCOs and even 2 LFOs (the original has no lfos at all)..
some modules can be changed: trigger delay can be env or ringmod & vice versa. But on the Hardware Origin all modules can be routed freely and chosen as you like to on a 3x8 grid - some modules can only be used X times - there are 9 VCOs max, same with filters and evns., but it's enough. the fixed filter bank is under FX.


there have been quite a lot of moog modulars over time:
* the big series 35 and 55,in wooden case like the one shown below.
* the vinyl cabinet (1 to 3 cabinets) but normally only one: systems 10,12,15
* synthesizer I,II,III,Ic,2c,2p,3c,3p
top luxury of course is the moog system 55.

most important thing:
the moogs use 1V/Oct. CV and SWITCHED TRIGGER. so it is compatible to roland and arp, but you need a small modification to the gate/trigger: the moogs used one kind of plugs for ENV triggering and VCO waveform restart:

europeans like me may only have seen this slightly different for loudspeakers: the jones cinch plug (something that the dinosaurs in the us may have used for phone stuff (!?!?). rare!
DETAILS Es gab verschiedenste Systeme und Modulzusammenstellungen: siehe english..

Im Origin können beliebig viele und frei arrrangerte MOdule jeder der internen Synthesizer verwendet werden und frei arrangiert. Also eine ECHTE Modularität.
Die software bis 2.0 ist nicht frei konfigurierbar, bietet aber alles, was man braucht, 3 filter, 9 VCOs und sogar LFOs (gibts bei moog ja normalerweise nicht). einige module sind tauschbar, wie zB trigger delay und env, ringmod
Hingegen auf Origin arrangiert man die Module in einem 3x8 Feld mit freier Zuordnung. Jedoch gibt es eine Limitierung der Anzahl einiger Module (9 VCOs max, ebenso Filter,LFOs und ENVs haben eine max. Anzahl).

DETAILS
SOUND well everything is possible.. the moog systems sounds are very high quality: wide, fat, big (if you want it to).. quite close but not the same, as always in soft emulation, but good sound!
SOUND ALLES ist möglich! theoretisch natürlich. Die Moog Systeme klingen ausserordentlich gut. breit, fett, wenn man es möchte.. nicht ganz das echte system, aber nahe dran, wie immer bei softemulationen..
SOUND
VERSION software versions

Moog Modular V, (yamaha) CS80V, Prophet V (vs + prophet 5), Roland Jupiter 8, ARP 2600

1.4: adds SEM filter
VERSION software versionen.. Moog Modular V, (yamaha) CS80V, Prophet V (vs + prophet 5), Roland Jupiter 8, ARP 2600 V

1.4: adds SEM filter
VERSION