Beat Thang Sampler + real time sequencer
SPECS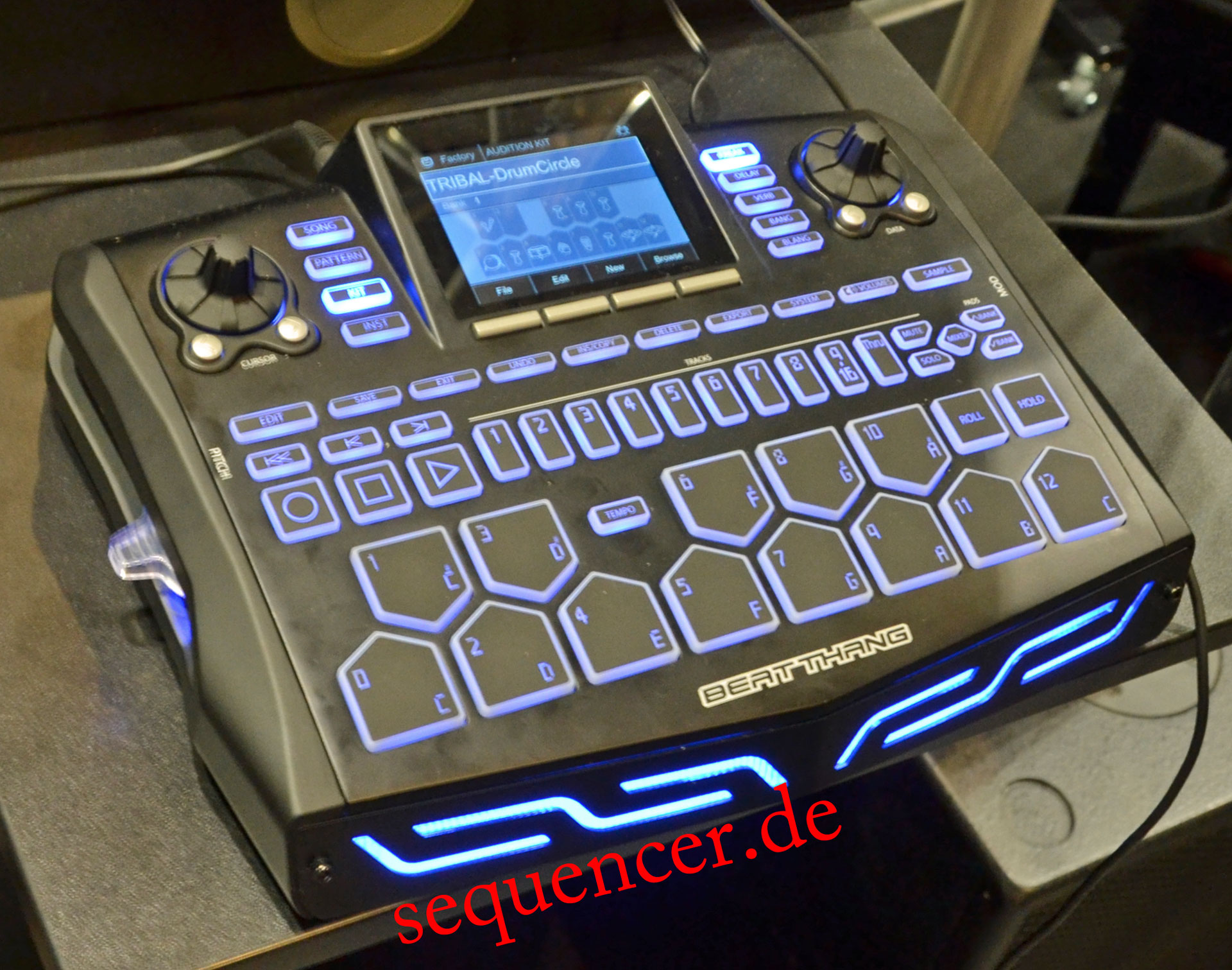 click image to enlarge - Bild klicken zum vergroessern
other BEATKANGZ gear..


ABOUT this machine came from Hiphop people with funny approach when it was released.

they wanted a newer more modern MPC with more memory and USB/SD Cards.

it started off at 1k€ and went down to about 650€ in early 2013.
ABOUT Diese Maschine wurde sehr lustig beworben im Anfang und die Leute kommen offenbar aus dem Hiphop. Sie legen viel Wert auf eine Real-Time-Maschine mit dynamischen Pads und genau das ist diese Maschine auch.

Zu entsprechenden Zeit wollte man auch einfach mehr hinein bekommen.

Es gibt sogar einen Batteriebetrieb. Und es leuchtet blau!

Zunächst wurde sie mit 1k€ angeboten, 2013 dann auf 650€ etwa gesenkt.

Test im SynMag #33
ABOUT
DETAILS Memory is limited by the SD card used. but RAM is 256MB.

2x 32GB SD Cards Steckplätze, 2x USB, for more memory or computer exchange.

no TR-style programming.
DETAILS Speicher wird über die SD Karte "begrenzt". Intern aber 256MB RAM

2x 32GB SD Cards Steckplätze, 2x USB als Datenaustausch Möglichkeit mit dem Rechner oder für USB Sticks.

96 Samples pro Kit. (12 Pads / 8 Bänke)

Kein Lauflicht!
256MB RAM
DETAILS
SOUND dynamic sample beats.
SOUND dynamische sample beats.
SOUND