Desert Drums Drummachine/Module
SPECS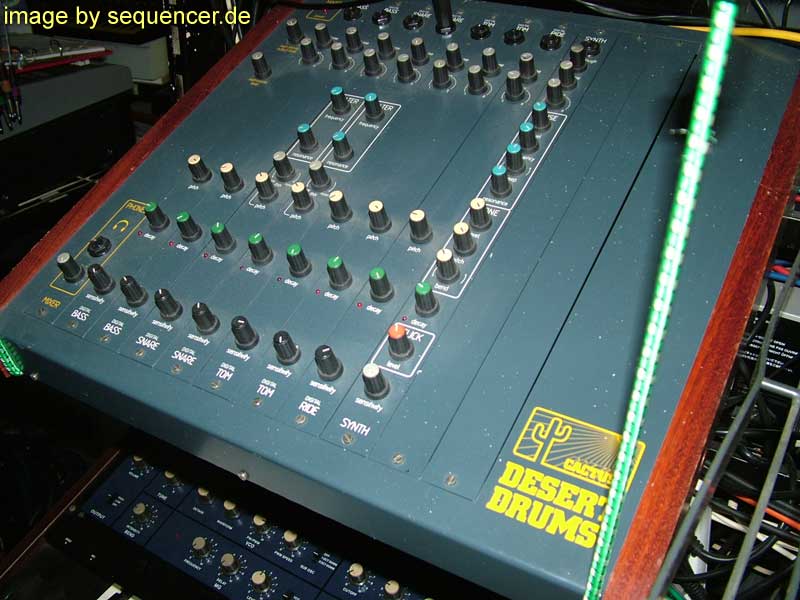 cactus desert-drums
click image to enlarge - Bild klicken zum vergroessern
other CACTUS gear..


ABOUT very rare, I owned one of these in the 80ies, some kind of mixture but most of the sounds are digital samples that are burned on an eprom inside, it is modular, so you could insert the modules you wanted to.. the guy who owned it after me expaded it to full .. some parameters are adjustable and I triggered it by a TR808 those days..

its "modular" and can work with up to 10 analog or digital modules max.
ABOUT Drum-Modul mit 10 möglichen Drummodul-Schächten, die mit BD,SD,TOM,Ride,Synth oder anderen Modulen bestückt werden konnte (HH?), Mischung aus analogen und digitalen Sounds sind möglich. Cactus ist wohl eine englische Firma, aber viel habe ich nicht über sie erfahren.
ABOUT
DETAILS since it is modular it has no special number of filters, the snare has one and the synth module has one.
DETAILS nun, das teil ist modular, daher gibts so viele filter wie SD oder synth module ..
DETAILS
SOUND drumexpander 80s kind of sound as drumpad sound module or as expansion of a tr808 (or something with ind outs)
SOUND drumexpander triggerbar von einzelouts oder pads
SOUND
VERSION modules I know of: BD,SD,TOM,Ride,Synth maybe HH?
VERSION drummodule, die ich kenne sind: BD,SD,TOM,Ride,Synth - evtl HH??
VERSION