CZ101, CZ1000 Digital Synthesizer
SPECS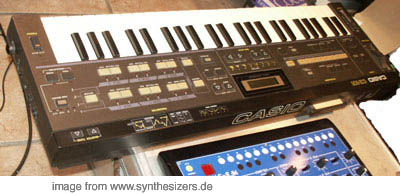 pic shows Casio CZ101
click image to enlarge - Bild klicken zum vergroessern
other CASIO gear..


ABOUT Casios first pro-synth called "Cosmo Synthesizer", reminds a bit of analog synthesizers, first midi multi (mono) mode. most cool sounds need 2 DCOs - means: 4 voices then.
ABOUT Casios Versuch, in den Profisynthesizer-Bereich einzusteigen. Cosmo Synthesizer mit einer Oberfläche, die an Analoge dennoch erinnern sollte. Die interessanteren Klänge benötigen allerdings 2 DCO-Stränge und haben dann natürlich nur noch 4 Stimmen. Einer der ersten Synthesizer mit Multi Mode (mono mode allerdings)
ABOUT
DETAILS very complex 8 stage time-level envelopes, still rare on synths.. one dedicated env for pitch, "filter" and amp (each structure: DCO-DCW-DCA), LoFi DAC resolution, so it has some noises (some people like it these days).. no resonance filter, because it is digital and no real "filter"..
DETAILS natürlich gibt es keine Filter-Resonanz, aber dafür volle 8-Segment Time--Level Hüllkurven, selbst heute noch viel! jede der strukturelemente hat eigene hüllkurve (DCO-DCW-DCA) knirscht gern, wegen niedriger Wandlerauflösung.
DETAILS
SOUND FX, strange things and LoFi Basses.
SOUND FX, Lofi bässe , seltsames..
SOUND
VERSION CZ101: small keys, CZ1000: normal size keys
VERSION CZ101: kleine Tasten, CZ1000: normale Tastatur
VERSION