SK1 Sampler
SPECS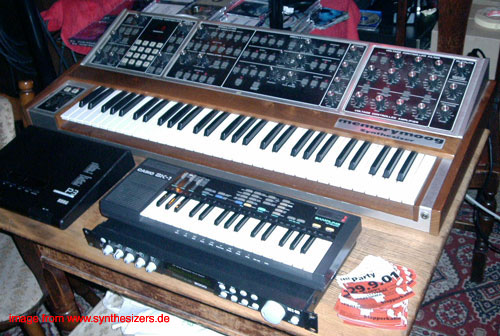 below: Casio SK-1 - sure it sounds well with the moog
click image to enlarge - Bild klicken zum vergroessern
other CASIO gear..


ABOUT well, a real circuit bending victim - it's very lofi - so it got famous in the late 2005..
ABOUT ein kleiner Sampler ,der sehr sehr gern benutzt wird, um ihn zu modifizieren..
ABOUT
DETAILS very simple sampler with mini keys with 9khz sample rate at 8bit resolution, perfect for bending! and I have seen and gear quite nice bendings..
DETAILS sehr einfacher sampler mit 9khz samplerate, 8bit, simple aber witzig, besonders wenn man etwas hand anlegt mittels lötkolben..

habe schon üble angebote mit bending bis 300€ gesehen. aber wert ist er eigentlich unter 100.. idealisten™ zahlen mehr..
DETAILS
SOUND lofi samples
SOUND lofi + bending - samples
SOUND