Exagone Polyless Analog Synthesizer
Cavagnolo
ExagonePolyless
SPECS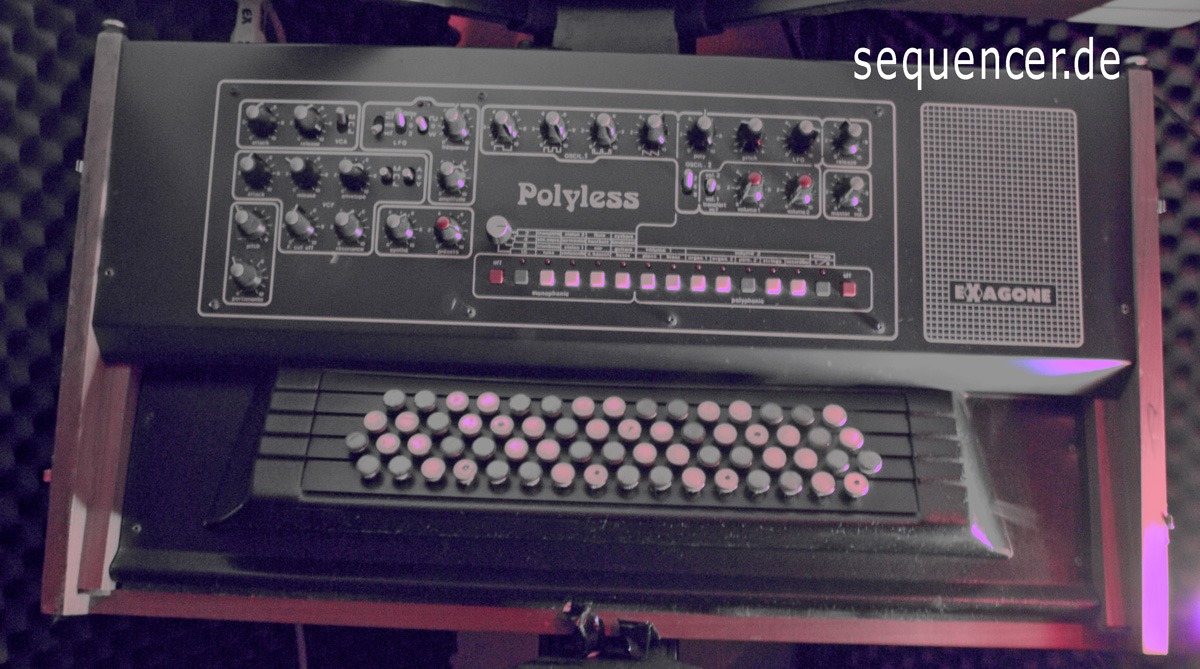 studio dreadful
click image to enlarge - Bild klicken zum vergroessern
other CAVAGNOLO gear..


ABOUT a very exotic accordion-keyboard synthesizer from france with very simple polysynth and monophonic part. Beside the 2 OSCed Cavagnolo XM64 possibly the only one made by that company.
ABOUT Sehr exotischer Synthesizer mit Akkordeon-Tastatur. Neben dem Cavagnolo XM64 2-OSC Synth hat er wohl eine Sonderrolle als Mischling. Er ist eine Kombination aus einem Poly-Teil und einem einfachen Leadsynth.

Exagone ist offenbar der Name der "Synthesizer Serie", der Hersteller ist ein frz. Akkordeonhersteller.
ABOUT
DETAILS the second OSC is polyphonic and mixable,
there are 3 mixable pulse waves and the sawtooth one. Waveforms of OSC2 unknown but most likely pulse because it's easier to make it organ-like polyphonic that way.

1 LFO routable to VCA, VCOs or Filter.
DETAILS Poly-Sektion mit eher Orgelartigem Sound plus Mono-Synth

3 Pulswellen und Sägezahnwellenform unabhängig einmischbar.
OSC 2 dient als Poly-Oszillator und arbeitet nach dem Teilerprinzip. Offensichtlich VCOs kommen zum Einsatz (analog).
DETAILS
SOUND Akkordion synth, don't know the sound
SOUND Akkordeon-Polysynth, Klang nicht bekannt
SOUND