Noah Digital Synthesizer + step sequencer
SPECS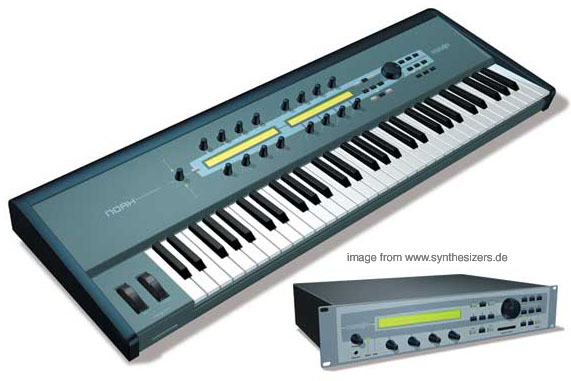 Noah keyboard + rack key never released.
click image to enlarge - Bild klicken zum vergroessern
other CREAMWARE gear..


ABOUT this one did not sell well, in fact it is a standard rack with not-so-cool user interface containing B3 organ, 6string guitar emulation, Moog (mini), ARP Odyssey along with SCI ProOne and the Lightwave, which is a kind of Wavetable Synthesizer with Waldorf Wavetables OSCs.

the keyboard was announced but never released for it's form (5 octaves) and bad sales..

first: there is a new synthesizer out: the prodessey, emulates the ARP odyssey as good as the minimoog (minimax) and SCI pro one..
let me say "as good" means: the noah redefined the quality of emulation software (and hardware).. most previous tries where simply a simulation of the structure but far from the sound of the original.. and: the originals are still analogue! so it may be a problem to compare the noah directly with ONE pro one or one mini!..

hmm, imo they cose the right vintage synthesizers.. I still hope for a virtual ms20! and even more I hope for creamware's polyphonic noah (yes! you can play all of these machines polyphonically) - that the company will survive.

you can still add a knob box to really EDIT the machine or try the 80ies style interface.. which is good for a 2HE rack with only 4 knobs,but not enough for performing.. so: get a nice knob box and have a couple (!!) of vintage synths available anytime! and polyphonically. well this machine did not sell well at all.. no they offer each model as a separate simple synth..

the prodessey also shows: the standard parameters of the original synthesizers are all there, sometimes you CAN choose if you want to use AR or ADSR but there is no patch matrix or something like this.. this has an advantage: it's not hard to get the idea and to make a sound!! on the other hand it is quite as powerful as the original but you can't "mod" it like the originals..
imo the importance of this is up to you!!!..

I demoed the noah with a mini-style controller (not a joke!!) and of course it was as simple to use and play as the mini..

so if you find some universal interface covering all those models you might have found YOUR instrument!!

since the lightwave,some kind of microwave type synth is also implemented it's worth to get one, if you find one cheap.. maybe they do a nicer controller-version of it?..
ABOUT der noah verkaufte sich schlecht, obwohl er ein vielfaches der Modelle Minimax und Pro12 ist, er hatte nur etwas weniger Stimmen (EX und normale Version)
B3 Orgel, 6string Katzendarm, ehm Gitarren- Emulation, Moog (mini), ARP Odyssey und SCI ProOne ,dazu der Lightwave, eine Art Wavetable Synthesizer with Waldorf Wavetables OSCs.

recht authentische emulation.. leider aber nicht mehr.. auch das gitarrenmodell ist eben eine gitarre.. nicht dehnbare parameter.. klang: wirklich gut.. bisher wohl das authentischste was ich so mit einem ohr höhren kann (meint: kein vergleich zum original im a/b vergleich.. dennoch nett für klassikerfreunde.. nix für leute die "was neues" wollen.. aber klasse für liebhaber des pro1, minimoog oder jupiter 8 (soll noch kommen) oder eben einer 6saitengitarre.. es soll noch eine drumbox/sequencer kommen..

NEU: NOAH wird nebenbei für mac und pc eine bedienoberfläche bekommen und 6 audiokanäle gleichzeitig mit midi via usb integrieren. wie der minimax zeigt,ist der noah klanglich wirklich bisher der nächste am minimoog, dazu kommen: ein wavetable synth "lightwave", b3 ähnliche orgel, gitarrenmodelle, vectron player (some sort of prophet VS but reduced version), pro one, vocodize - a vocoder with some specials and FX (reverb etc..)..

es gibt 2 versionen: normal und ex, diese können 2,bzw 4 der obigen instrumente nutzen. klingt damit auch nach 2 oder 4fach multitimbral.

generell eine gute idee, hoffentlich auch bald ein bisschen mehr dehnbare modelle.. gibt ja auch schon den voyager ;)

generell aber , bevor hier jemand in die falsche richtung denkt: die bisher BESTEN und POLYPHONEN emulationen von Sequential Circuits Pro One und Moog Minimoog
sind sehr gut!!
..controllertechnisch wäre das sicher verbesserbar ;) aber der KLANG ist wirklich sehr recht hochwertig.. Das Keyboard kam garnicht erst raus, schon weil es eben unideal war für live (5 Oktaven!) und etwas fummelig für ein Liveinstrument.
ABOUT
DETAILS less voices than the newer emulations but more in one synth, but a quite silly user interface for that purpose..
DETAILS etwas leistungsschwächer (weniger stimmen) als die neueren emulationen, dafür aber flexibler, es gelten exakt die technischen daten des emulierten Synthesizers, also auch nicht mehr.. siehe also Minimoog, ProOne und Odyssey plus Lightware und Orgel ..
DETAILS
SOUND very flexible but not cool for live or playing.. can be controlled by ext. midi ctrl-box..
SOUND sehr flexible palette , aber nicht ideal für live-performance... kann aber via controller gesteuert werden
SOUND
VERSION EX expands voices / multitimbrality to 4
VERSION EX: Stimmenverdopplung / 4 fach multitimbral.
VERSION