Trilogy Analog Synthesizer
SPECS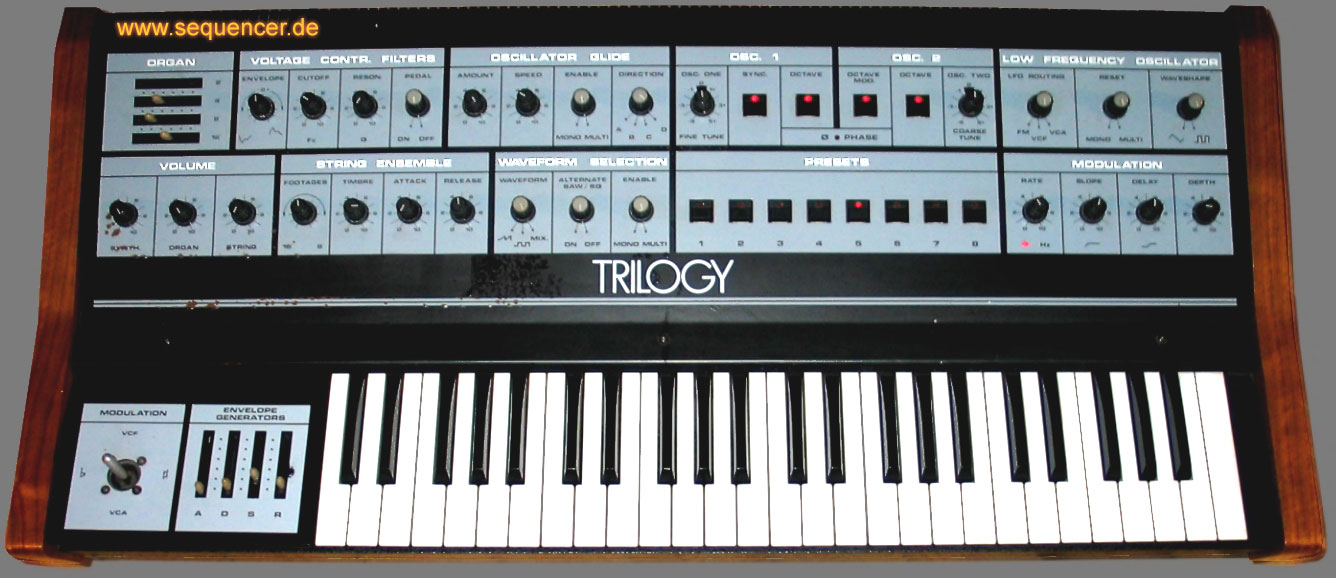 Crumar Trilogy thx for pic: Bernie
(
link
)
click image to enlarge - Bild klicken zum vergroessern
other CRUMAR gear..


ABOUT this is one of those nice multi-synthesizers - the workstations of the early 80ies. it has a section for organ, strings (full polyphonic) and synth (monophonic).

CRUMAR = Crucianelli, Mario the founders name (italy).
ABOUT CruMars Multisynthesizer mit 3 Sektion für Orgel, Strings (voll polyphon) und Synthesizer (mono) gehört er zu den "Alleskönnern" seiner Zeit. 8 speicher.
ABOUT
DETAILS changes waveforms when a key is pressed (of course only if you want), full polyphony for strings and organ (just 2'-16' sliders). 8x memory, nice joystick (korg like controls vca, vcf + bending)

Hardware
6 CEM3310 EG
6 CEM3320 VCF
6 CEM3330 Dual VCA
1 SSM2020 VCA
DETAILS vollpolyphone string sektion + orgel sektion (2'-16' regler, das wars) , plus synthesizer mit gutem filtersound (curtis) und möglichkeit des wechsels der wellenformen pro tastendruck. 8 speicher (!) cooler joystick
DETAILS
SOUND bass + fx, strings
SOUND bass + fx, strings
SOUND