Modular Modular Synthesizer + analog step sequencer
SPECS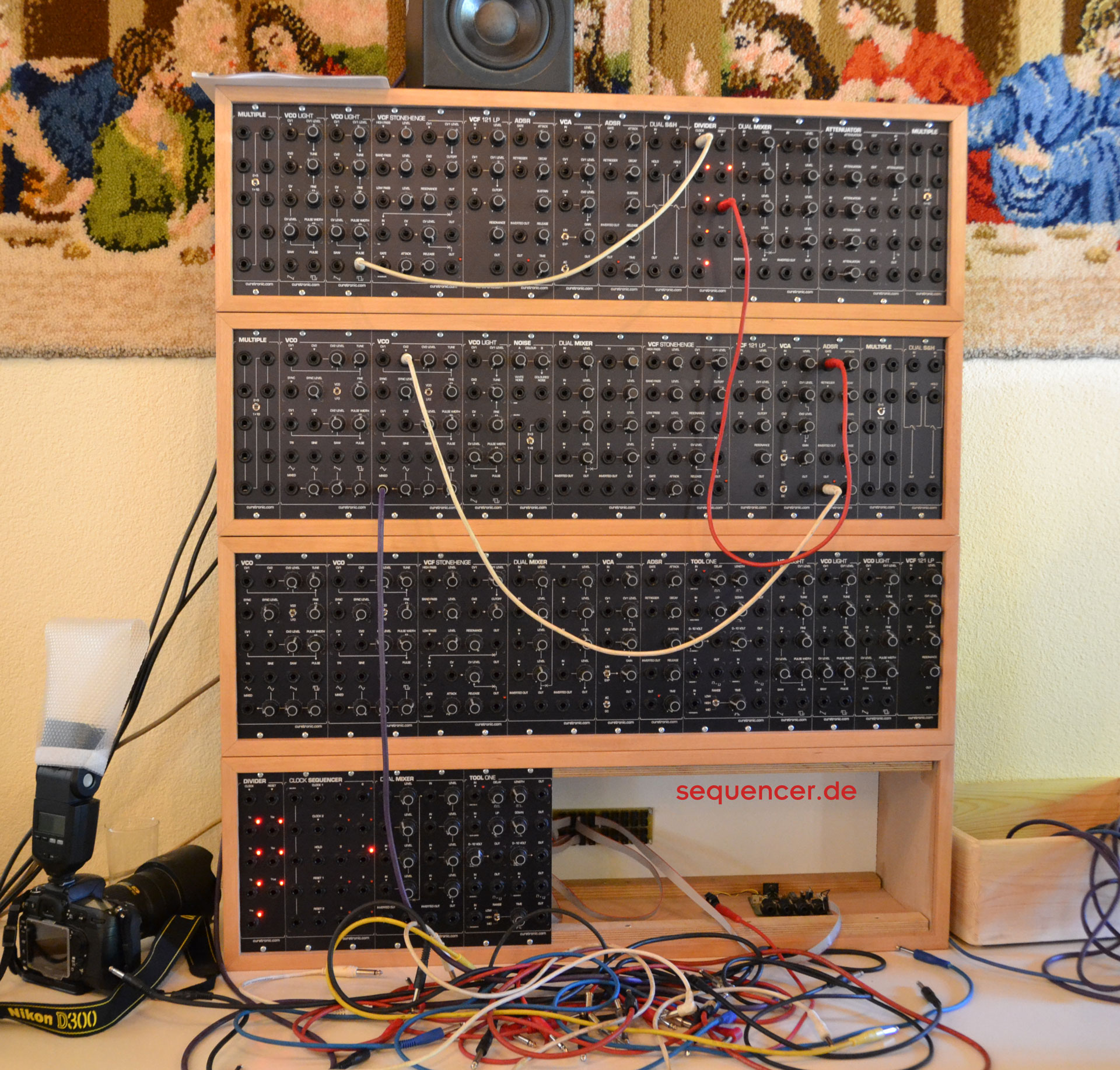 a part of all modules by curetronic
click image to enlarge - Bild klicken zum vergroessern
other CURETRONIC gear..


ABOUT matthias began with DIY synths and they are still available, now there are complete systems available in standard "moog" size (motm etc..) the earlier ones where formant size (6 HE)

typical new format is now 5 spaces like moog / MOTM and find a steiner parker filter in here (stonehenge) and some nice clock dividers/sequencers in small size
ABOUT bisher gab es vorallem DIY Systeme von Curetronic, mittlerweile gibt es jedoch auch komplette Systeme vom Mastermind Matthias.

Besonders ist das Steiner Parker Filter (Stonehenge), Div. Clock Divider und Clock Sequencer in kompakten Modulen einfacher Breite und das in 5HE.
ABOUT
DETAILS nice quad LFO, clock sequencers, modular sequencers (in length) and steiner parker filters.

1) Sequencer itself with 8 Knobs, Reset, ext. and int. Trigger, CV + Gate out (V/Oct, V-trig)
2) extra Module for Mutes and Gate "length"
3) another for LEDs
4) the pulse out module itself.. see pdf

this is a modular system that started as DIY kits first..

there are interesting modules like the steiner parker filter,
a simple step sequencer for triggers, clock divider, VCOs with sync and FM input

and: very cheap (means: GOOD and cheap)..
moog size or formant (german modular system) 5 or 6 HE

you can also order your custom format - they will do it..

even a midi interface with 8 CVs is available..
random noise generator, quad LFO (2 different ones, one CV controlable)
some interesting modules.. check their site..
DETAILS div module, schöner 4fach LFO, steiner parker filter und vieles mehr, dazu spezielles sequencerkonzept mit modularem aufbau der länge und clockdivider / clocksequencer sind im programm..
DETAILS
SOUND everything, especially the clocksequencers and triggersequencer help to make nice grooves
SOUND alles, insbesondere groovesequenzen mittels divider, clocksequencer etc..
SOUND
VERSION C100A/VCO
C100B/VCO light
C101/DUALSHAPE LFO
C102/QUINT LFO
C103/VCF VCA
C104/VCF CV-RES
C105/MULTI VCF
C106/VCA
C106B/DUAL VCA
C107/ADSR
C108/NOISE MULTIPLE
C109/DIGI NOISE
C110/DUAL MIXER 2x4
C111/DUAL RINGMOD
C112/DUAL SAMPLE&HOLD
C113/CLOCK DIVIDER
C114/CLOCK SEQUENCER
C115A/8-STEPSEQUENZER
C115B/LED-EXTENSION
C115C/PULSE-OUT
C115D/MUTE
C116/WAVE-CRUSH
C117/MIDI INTERFACE
C118/CV-PHASER
C119/MULTIPLE
C120/ATTENUATOR
C121/FINE TOOL
C122/TOOL
Cabinets & Co.
VERSION div. module.. siehe english..
VERSION