Pro 2 Hybrid Synthesizer + modulation step sequencer
SPECS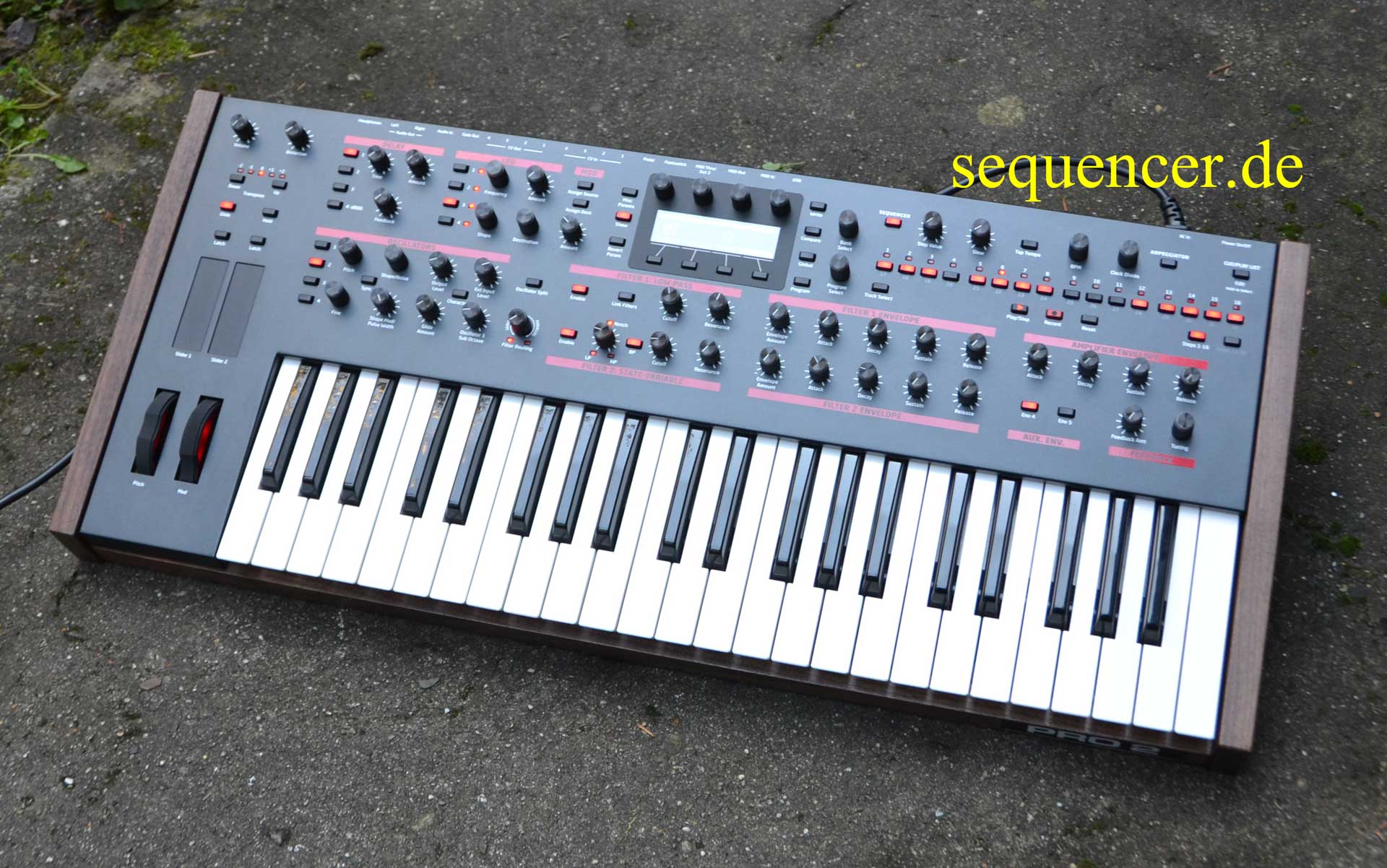 click image to enlarge - Bild klicken zum vergroessern
other DAVESMITH gear..


ABOUT the Pro 2 has much more in common with the Prophet 12 than the Pro One, but not because it isn't worth comparing - it's simply more than the Pro One can do.

it is one of the most feature packed mono synths next to the Moog Sub 37 - and has a very cool step sequencer that can be used to animate 8 parameters or up to 16 when used in 16step only mode. also nice as a modulation sequencer.
ABOUT Der Pro2 ist formell Nachfolger des legendären Pro One. Er hat augenscheinlich auch alles, was man erwartet, nämlich einen Sequencer in den 8 Spuren beliebiger Parameter automatisiert werden können.

Er ist neben dem Sub37 einer der aufwendigen Synthesizer mit sehr vielen Möglichkeiten und somit durchaus mehr als sein Vorgänger aber er klingt anders und hat andere Eigenschaften, die dem Prophet 12 weit mehr ähneln als jedem anderen.

Außerdem hat er 4 CV ins und 4 Outs für analoge Maschinen und einem Gate-Ausgang.

Und seine digitalen OSCs bringen 11 Wavetables hervor und komplexe Modulation
ABOUT
DETAILS both filters now got resonance. first one is a 24dB/Oct LPF that can be used for the first 2 OSCs, other one is a 12dB multimode filter with morph (lpf to hpf) - both can be used in parallel or just after the 24dB&oct one.

noise waves: 3 types in the oscs!

AM and FM allow ringmod sounds as well,
but individualising the sound is easy since it has 4x4 delays plus a character section with saturation/drive, distortion and more which is a lot.

the digital waveforms are no longer editable via computer but cool enough, still.
no more step sequencer as well.

osc's are in the modmatrix as well (source and destination) - there's 25 mod slots (16 free, rest for sequencer etc - "hard wired")

2 ribbon controllers are touch sensitive.

Modsequencer holds 16 tracks for 16steps or 8 tracks with 32 steps - all step input like Pro One / Bass Station 2 - very cool and creative layout.

4 in and 4 out CV that can be routed in the matrix plus Gate Out.
DETAILS HPF und LPF haben beide Resonanz!

Besonders ist, dass es hier pro Stimme 4fach Delays gibt und eine umfangreiche Effektabteilung, die das individualisieren der Sounds ermöglicht. (Verzerren, Bitcrushing etc.)

Dieser Synth ist 4fach paraphon, also können 4 Töne gespielt werden, welche jeweils von den 4 OSCs übernommen werden aber sie wandern alle durch die beiden Filter. Jeweils 2 OSCs können durch das 24dB/Okt Tiefpass oder durchs 12dB/Okt Multimodefilter geschoben werden (und parallel oder seriell geschaltet sein).

Die Oszillatoren sind Quelle und Ziel in der Modmatrix.

Sehr cooler Sequencer mit 16 Steps und 16 Spuren (frei) oder mit 32 Steps und 8 Spuren. Kann auch die CVs ansteuern!

2 ribbon controller - touch sensitive!

Die Wellenformen sind fest, nicht frei, aber es sind komplette Wavetables (11 Stück) mit ihren Super-Versionen (ähnlich Supersaw).

Die Matrix hat 25 Einträge, davon 16 frei, der Rest ist für den Sequencer und andere feste Verbindungen. Auch die CV Ausgänge (4 Stück) können in der Matrix verbunden werden woimmer man diese auch hin schicken möchte, inkl. des Sequencers. Beim Eingang ist es etwas einfacher gehalten und man kann sie als Tastenersatz definieren.
DETAILS
SOUND movement! evolving sounds, even very new warp-kind of delay modulations are possible as well as traditional nice prophet-pads, but movement and organic sounds are the evolvers friend. very soft to very hard/distorted

has CV inputs and outputs therefore it is a perfect controller for analog synths
SOUND sehr viel bewegung und neuartiges durch die modulierbaren delays geht der klangbereich von glitch/warp sound bis klassischen prophet-flächen, aber bewegtes ist seine stärke! Sehr weich bis knallhart und verzerrt.

Sehr gut für die Steuerung von analogen Synthesizern wegen der CV Ein und Ausgänge.
SOUND