Tempest groovebox + TR sequencer
SPECS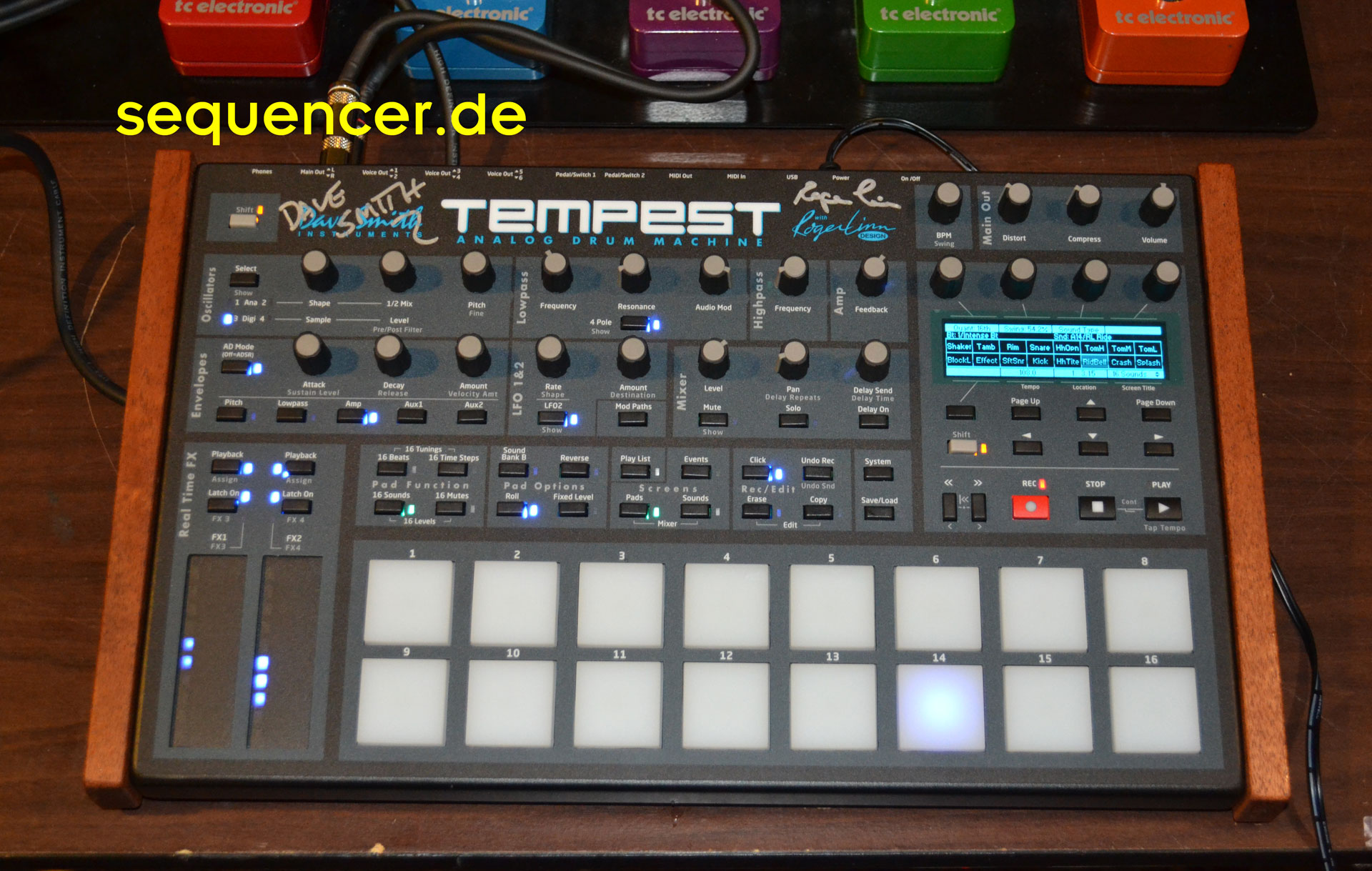 click image to enlarge - Bild klicken zum vergroessern
other DAVESMITH gear..


ABOUT possibly the most complex analog drum machine which is a not modeling per instrument (BD,SD..) but a full 4 OSC synth. the envelopes are AD
ABOUT Etwas an den Evolver erinnert die Struktur der Oszillatoren. 4 Stück für einen Drum-Maschinen Sound ist auch nicht eben wenig. Allerdings sind sie nicht wie die meisten Analogmaschinen speziell für einen Zweck gemacht, sondern eben ein vollständiger Synthesizer, dh 6 davon, denn es gibt ja 6 Stimmen und ein paar Samples. Tonal spielen kann man diese Sounds auch. Sogar ADSR Hüllkurven.
ABOUT
DETAILS HPF no reso, 2 Pole with just a few Reso. As known from the other DSIs

the pads are both pressure sensitive and allow to play dynamically, also has TR mode
DETAILS Es gibt 2 Filter, im 2Pol Modus ist das LPF allerdings mit nur wenig Resonanz ausgestattet, der Hochpass hat keine Resonanz. Also wie bei den anderen DSI Synthesizern auch.

Es gibt Dynamik, die Pads sind dynamisch und druckempfindlich, der Sequencer hat auch einen Lauflichtmodus im TR Stil
DETAILS
SOUND analog and even more complex sounds and even melodies but for the price of just 6 voices and a few samples.
SOUND Analoge und sehr bewegliche Drums und Sounds für den Preis der Reduktion auf 6 Stimmen, wenige Samples.
SOUND