Tetr 4, Tetra Analog Synthesizer + analog step sequencer
SPECS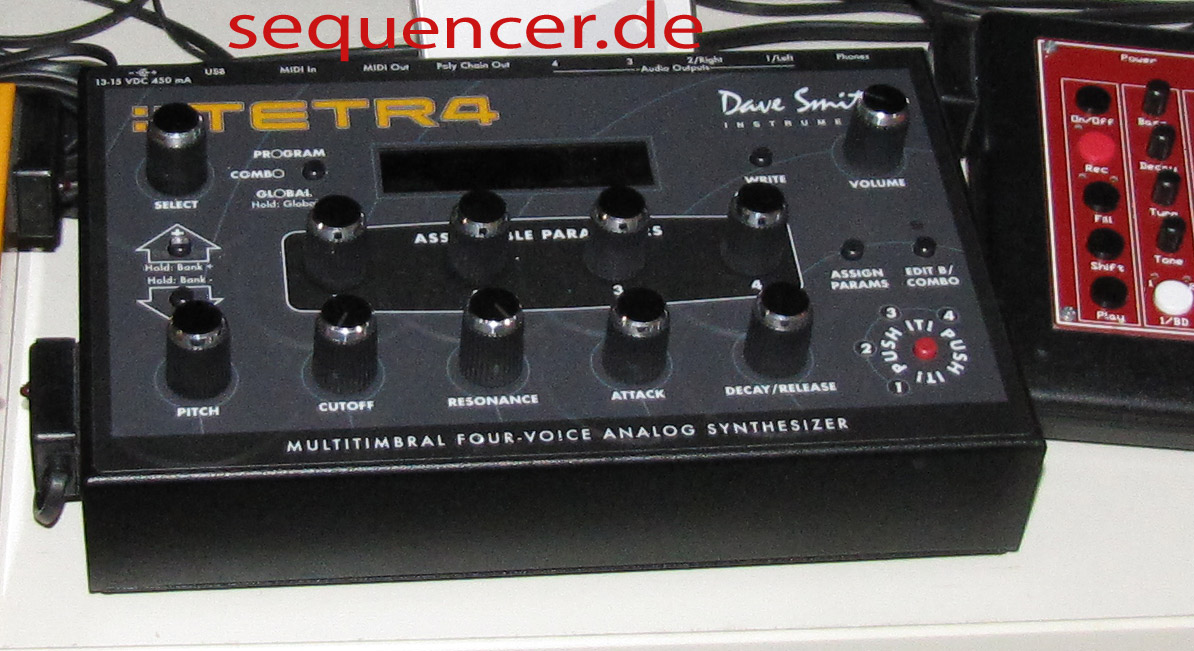 dsi tetra synth
click image to enlarge - Bild klicken zum vergroessern
other DAVESMITH gear..


ABOUT 4 Voice of the Mopho, which is a smaller version of the Prophet 08 with 4 Sequencer Lines, almost analog.
ABOUT 4stimmige Version des Mopho, der wiederum eine kleine Ausgabe des Prophet 08 ist.
ABOUT
DETAILS 4 Voices of the Prophet 08 but with 4 Sequencer Lines with 16 steps. Can be edited via Software (Mac, PC), but has simple Menu to reach them all on the box, too. has audio in with feedback. Two sub-octave generators (one octave down and two octaves down - a bit like on the SH101)

Sequencer: 4x16 Steps (4 Tracks with 16 Steps each like Evolver)
DETAILS 2 Suboscs und im Wesentlichen wie der P08 mit 4 Sequencerzeilen. Kann über Editorsoftware programmiert werden (Mac/PC), hat aber auch ein rudimentäres Menü in dem alle Parameter erreichbar sind. Audio in gibts auch mit Feedbackschleife.

Sequencer: 4x16 Steps (4 Spuren mit 16 Steps, wie im Evolver)
DETAILS
SOUND movement! evolving sounds are possible as well as traditional nice prophet-pads, but movement and organic sounds are the p'08 friend. in fact it is more an evolver than a new Pro One but. check yourself..
SOUND sehr viel bewegung durch die modulierbaren delays geht der klangbereich filter FM bis klassischen prophet-flächen, aber Bewegtes ist seine stärke! "ein neuer Pro One?" das wird ihm wohl anhängen, eigentlich ist er eher ein analoger Evolver..
SOUND
VERSION A monophonic Version of the Prophet 08 in a small box, but 4 voices (black).
there is a cheaper monophonic version (mopho, it's yellow) and the Mopho Keyboard

and more knobs on the Prophet 08 Desktop and Keyboard
VERSION Monophonversion des Prophet 08: Mopho (gelb)

4stimmig aber gleiche Form wie Mopho: Tetra (schwarz)
+Keyboard oder Rack mit Reglern: Prophet 08
VERSION