Dark Energy 2 Analog Synthesizer
SPECS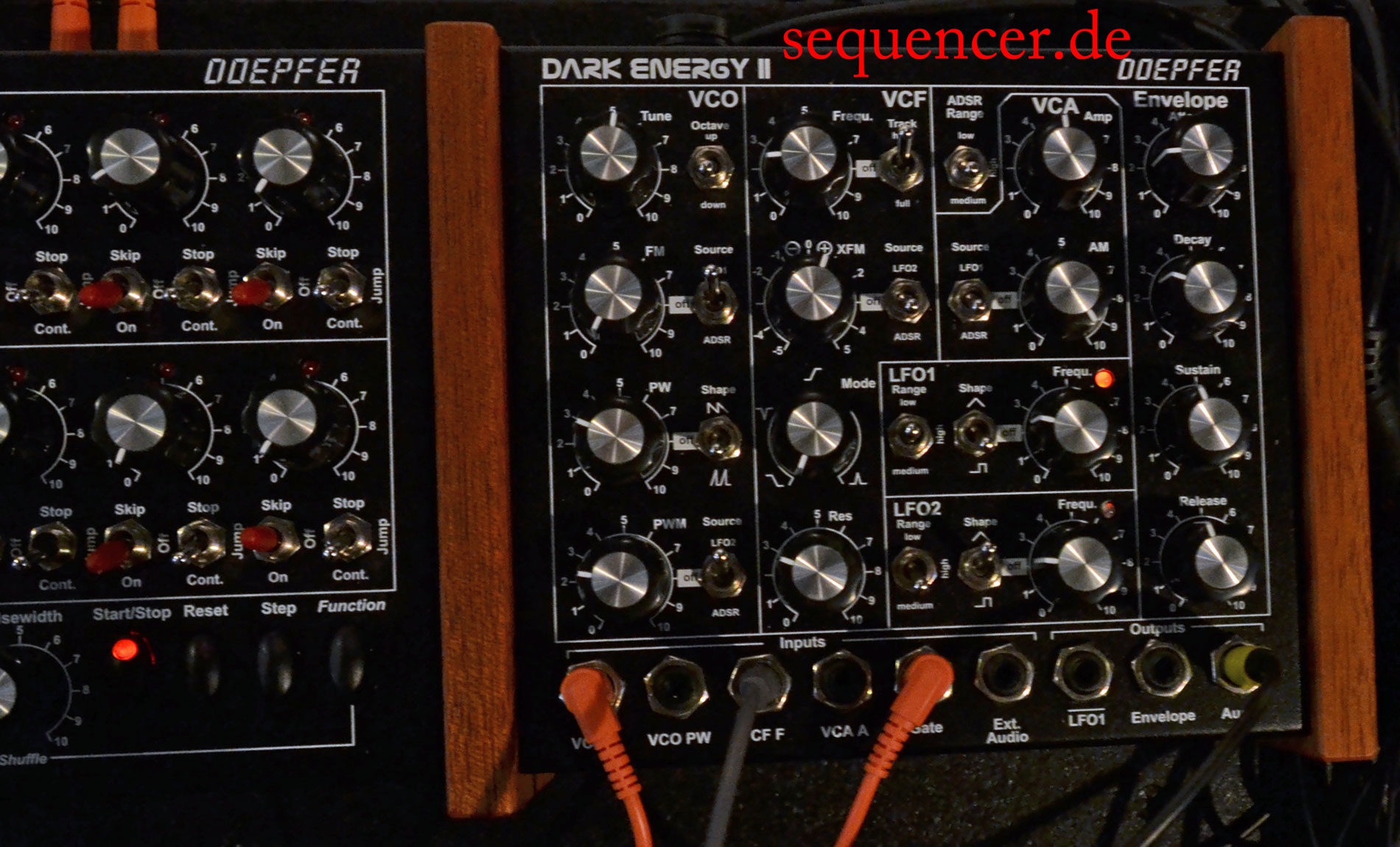 dark energy
click image to enlarge - Bild klicken zum vergroessern
other DOEPFER gear..


ABOUT Nice small and handy synth, also available as a module

after the curtis chip turned out to be rare the 4000 pcs made Dark Ones got a successor with multimode filter and 12dB/oct. instead of 24 lowpass only.
ABOUT Ein kompakter Kleinsynthesizer, den es sogar auch als Modul gibt, nachdem von der ersten Version 4000 Stk. verkauft wurde musste man umsatteln, da der Kern, ein Curtis Chip, nicht mehr in ausreichenden Mengen vorhanden war.

Der größte Unterschied ist das Filter - 12 statt 24dB/Okt. und Multimode.
ABOUT
DETAILS very fast LFO(s) range into kHz!!..

even has USB MIDI (!!)
DETAILS schnelle(r) LFOs geht bis in den KHZ-Bereich!!

hat sogar usb & midi
DETAILS
SOUND basses, vocal-like FX / FX..
SOUND bässe und stimmen-sounds, FX
SOUND
VERSION there is a module version (silver front plate style) also

and a sequencer in the same style called dark time.

the 1st version of Dark Energy had more FM capability, triangle waveform and a 24dB/oct filter (lowpass)
VERSION es gibt einen optisch passenden sequencer (dark time) und im typischen silber-doepfer style auch eine Modulversion des Dark Energy

Und den alten Dark Energy mit 24dB/Oct Filter und etwas mehr FM Möglichkeiten.
VERSION