Ekosynth Analog Synthesizer
SPECS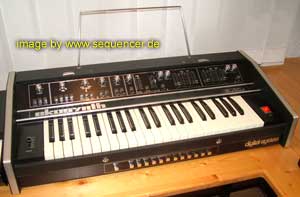 eko synth
click image to enlarge - Bild klicken zum vergroessern
other EKO gear..


ABOUT italian and rare synth, there are also drummachines by eko
ABOUT italienischer seltener Synthesizer, von Eko gibts auch drummachines..
ABOUT
DETAILS 2x ADSR envs and not so bad sounding filter. slope not known..
DETAILS 2x ADSR envs und garnicht schlecht klingendes filter. flankensteilheit unbekannt.
DETAILS
SOUND analog basses and leads.
SOUND analoge bässe und leeds.
SOUND