Machinedrum , UW, sps 1 groovebox + TR sequencer
Elektron
Machinedrum/UW/sps1
SPECS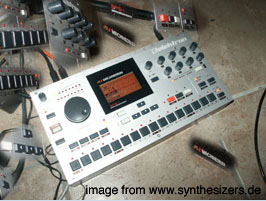 Machinedrum , UW, sps 1
click image to enlarge - Bild klicken zum vergroessern
other ELEKTRON gear..


ABOUT Drum Machine with VA sound generation along with 12 bit sampling, 2MB own samples and some flexible models with some parameters and effects processor.
ABOUT Drum Machine mit VA Klangerzeugung, dazu 12bit samples. Sehr im Stile "alter" Maschinen aber mit neuer Technik, sehr flexibel, da die Modelle einige Parameter und Effekte bieten.
ABOUT
DETAILS TRX (12 instruments), EFM (8 instruments), 12bit (16 instruments) and PI (6 instruments), UW version integrates you own samples via midi (Sample dump standard)
DETAILS TRX (12 instrumente), PFM (FM) (8 instrumente), 12bit (16 instrumente) und "PI" (6 instrumente). UW bringt noch 2MB eigene samples mit ein (per midi sample dump)
DETAILS
SOUND drum sounds for the 2000's ,very modern sounds, more "click" than "phat".. cool sequencer. 32 steps somewhat short per pattern..? btw: it can record and play midi controllers..
SOUND drum sounds, vor allem klickendes und sehr modernes für die 2000er.. weniger "phat", eher kurz und prägnant. guter sequencer. 32 steps max (etwas kurz), midi controller aufzeichnen und abspielen geht ebenfalls.
SOUND
VERSION UW: with 2 MB sample ram
VERSION UW: mit 2 MB sample ram
VERSION