SIDstation Analog Synthesizer
SPECS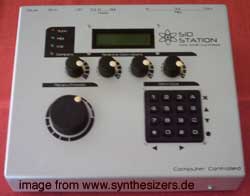 SIDstation
click image to enlarge - Bild klicken zum vergroessern
other ELEKTRON gear..


ABOUT the Commodore SID Chip (C64) as a synthesizer with midi..
ABOUT der Commodore C64 SID Chip als Synthesizer, er bekam sogar Midi, klingt daher auch genau so..
ABOUT
DETAILS exactly the SID sound plus 4 LFOs this is the heart of the commodore C64 homecomputer from 1983 - the SID chip, a real analogue synthesizer with 3 voices: ringmodulation, ADSR envelopes, PWM for a real lowfi sound.. the sidstation has some additional features.. eg: "wavetables".. and 4 controllers.. not cheap! but possible beside the ucapps C64 a nice way to use it as an instrument..
DETAILS entspricht exakt den features des SID / MOS6581 plus 4 LFOs, er ist wirklich analog, die jungs haben später ensoniq gegründet..
DETAILS
SOUND lofi 8bit game sound..
SOUND lofi 8bit game sound..
SOUND