Synthi 100 Modular Synthesizer + step sequencer
SPECS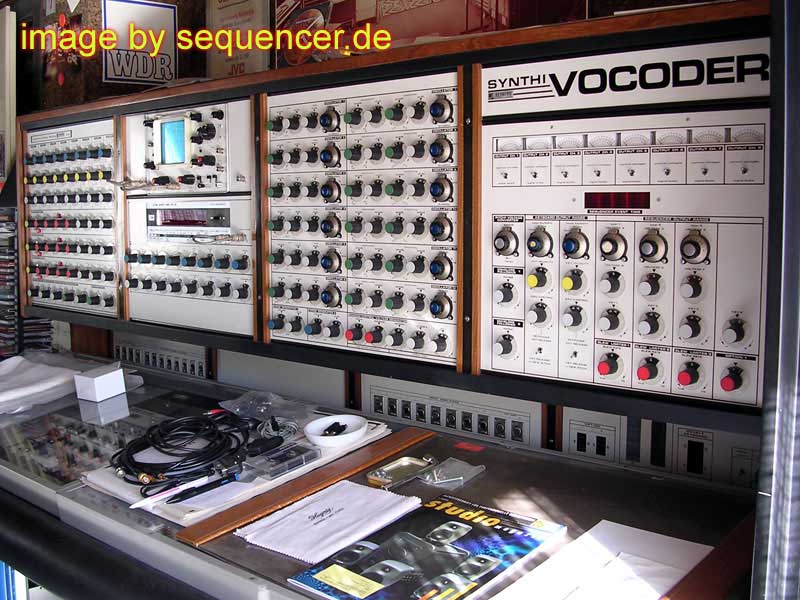 thx for pic to theo of bluesynths
(
link
)
click image to enlarge - Bild klicken zum vergroessern
other EMS gear..


ABOUT A classic! looks like a russian power plant control. a matrix controls what is modulated by what source. there are not too many requests for keyboards or midi, quite "clinical" Sound, very british also. quite minimalistic (no lfo and only one ENV). anyway worth more than one ear. dr. who was recordet with one of them and stockhausen told about it "boring filters but a fascinating sequencer"
ABOUT Ein Riesenmonster, Eigentlich wie mehrere VCS3 in einem mit einer 60x60 Matrix als Steckfeld. Der Klassiker, sieht aus wie ein russisches Schiffeversenken. Über eine Steckmatrix kann jedes Ziel moduliert werden. Er hat eigentlch eine eher spartanische Ausstattung, dennoch einen sehr speziellen "Klinik"-Sound. British ist das Instrument durch und durch, schon weil Dr.Who damit aufgenommen wurde (Sci-Fi).
ABOUT
DETAILS what can I say? OSCs 10,11,12 made for mod purpose (500 hz max.), 12 OSCs total, 8 filters and 3 envelopes (those trapezoid generators), cv: 0.5 V/oct. - 60x60 mod matrix.
DETAILS was kann man hier sagen? ein Schrank mit 60x60 Matrix, 12 OSCs und 8 filter, lustigerweise nur 3 ENVs "trapezoid-generatoren".. cv: 0.5V/oktave. OScs 10,11,12 für mod gedacht (ähnlich wie VCO3 im VCS3)
DETAILS
SOUND effects, wonderful noise machine, not so stable OSCs, cool for those who also have everything..
SOUND effekte, wunderbare Krachmaschine, modular , nicht stabil aber wirklich kultig, super für Millionäre.
SOUND