Command Station , XL7, MP7, PX7 Digital Synthesizer + TR sequencer
Emu
CommandStation/XL7/MP7/PX7
SPECS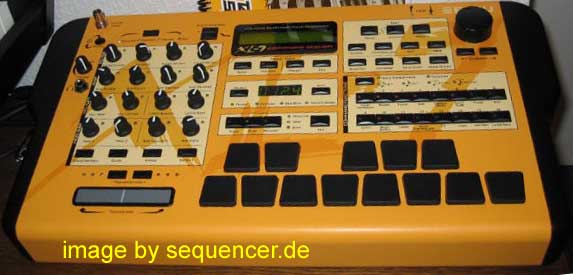 command station thx4pic: koffeinjunkie.
click image to enlarge - Bild klicken zum vergroessern
other EMU gear..


ABOUT Like Morpheus but different "sound ROM" and filters that help to filter those pianos and stuff - Emu developped the "z-plane" filter concept with 6-12pole filters, not user configureable but lots of filter types, all got 3 parameters (transform morphs the slope or other things..)
ABOUT Wie Morpheus, aber mit anderem "ROM Material" und weniger Filtermodellen und 6-12pol filter. Emu entwickelte das "Z-Plane"-filter konzept, letzlich ein mehrpoliges Filtersystem bis 12-Pol, dabei gibt es 3 Parameter (Transform, Cut, Reso), Transform verändert Flankensteilheit oder andere Dinge. Sehr viele fertige Filtermodelle, 2
ABOUT
DETAILS 3 envs per layer (4x) also lots of LFO waveforms incl "near chaos-kind of waves" or other digital waveforms, also 50 filter types (6-12 poles), slimmed down morpheus or tuned up Emulator 4?.. Groovebox-like Sequencer.
DETAILS aufwendige modmatrix, sehr im Stil der Emulator 4 Serie, 3 Hüllkurven 3x level rate pro layer (es gibt 4 layer!), viele spezielle LFO wellenformen und 50 filtertypen, abgespeckter Morpheus oder aufpolierter Emulator? Groovebox-artiger Sequencer.
DETAILS
SOUND complex filter structures and bread and butter sounds + grooves.
SOUND interessante filterverläufe, grooves und brot und butter sounds
SOUND
VERSION rack or command station groovebox, different rom content. XL7/MP7: rom of planet phat / extreme lead
VERSION rack oder command station groovebox, verschiedener Rom inhalt. XL7/MP7: rom des planet phat / extreme lead
VERSION