Emulator 2, Emulator II Hybrid Synthesizer + simple sequencer
SPECS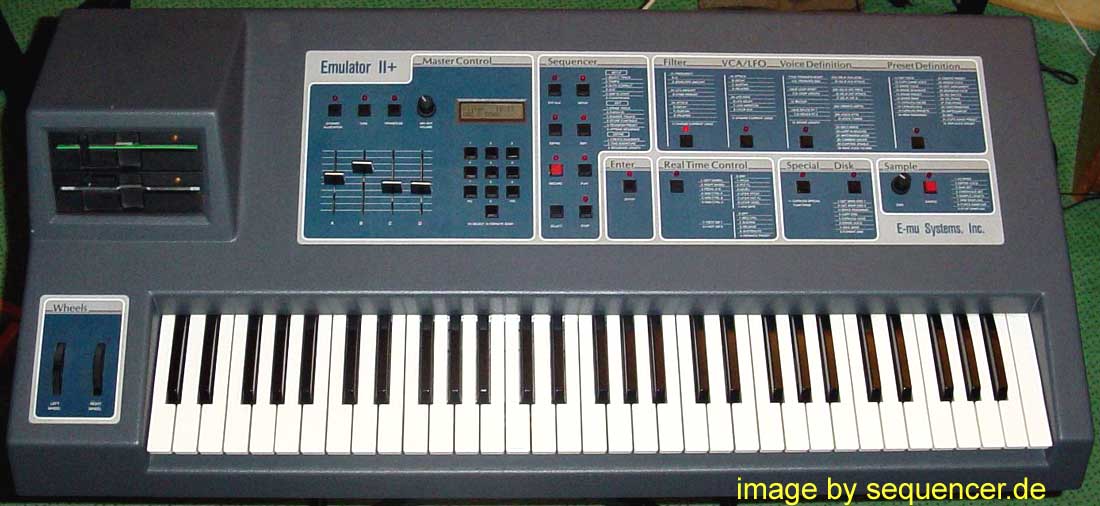 pic thx to pumi
click image to enlarge - Bild klicken zum vergroessern
other EMU gear..


ABOUT The Emulator II was THEEE Sampler, F242 and Depeche Mode used it on stage (the 80ies), most samplers were not much more than this, but more ram.. 3000 were made. quite a lot for that price at its time (in germany 28000 DM = 14000€)
ABOUT Der Emulator II ist wohl der bekannteste Sampler der 80er, F242 und Depeche Mode traten damit auf, er hatte das, was spätere Sampler noch lange kaum überboten. Damaliger Superpreis war gut 28000 DM, HD für nicht-Festplattenmodelle kam für schlappe $3000 ins Haus.
ABOUT
DETAILS very simple sampler from todays view,
basic 128KB ram - 512KB standard
later models,
SMTPE write/read (thats why it was studio standard!).
RS422 mac serial connection for sample editing with sounddesigner (the guys that later were digidesign),
2x 5 1/4" floppy plus version: 20MB HD,2x 512KB

filter: SSM2045, 8bit compressed format (like 12bit)
DETAILS aus heutiger Sicht ein simpler Sampler mit 27 KHz und 8 Bit (komprimiert, wie 12bit),

SMTPE write/read (wodurch er zum Studiostandard wurde).

RS422 (mac) interface für samplebearbeitung mit Sounddesigner (digidesign!),

2x 5 1/4" floppy,

turbo/plus version: 20MB HD, 2x 512KB
Ab 1985 gab es dann auch den "Emulator II+". Dieser ist identisch mit dem normalen EII, mit der einen Ausnahme, daß er einen ZWEITEN zusätzlichen Samplespeicher mit ebenfalls 512kB Kapazität besitzt. Zwischen den beiden Speichern kann man per Doppelklick auf die Zifferntaste "0" umschalten. Somit kann man zwei Bänke nacheinander in den Emulator II+ laden und kann dann zwischen den beiden Bänken umschalten. Natürlich kein Sampling auf 1MB,sondern wirklich 2x512KB!

analog filter: SSM2045

booten immer von Diskette. EII kann kein Sample Dump Standard, EII Format wird aber vom Oberheim DPX1 gelesen. (sonst von keinem).
DETAILS
SOUND samples! (with analogue filters)
SOUND samples! analog gefiltert.
SOUND
VERSION misc versions and OS:
1) turbo/plus version: 2x 512KB
2) normal version 1x 512KB
3) HD + optional 20MB HD

early Emus had RS232 only, later and standard models got RS422, rs232 allowed no sound edits.
EPROM should by at 2.1, OS 2.2 or 2.3
Software is special Version for EmulatorII.
VERSION div. ausbaustufen und OS,

2x 512KB = plus version
20MB HD in HD Version oder Optional
normal: 1x 512KB

erste Emulatoren mit RS232 und ohne editmöglichkeit am Rechner. später und üblicherweise RS422 (Mac serial 68K Macs und frühe PPC)

ab Seriennummer 990 (mit serienmäßig zwei Laufwerken), bzw. 460 (mit serienmäßig einem Diskettenlaufwerk) mit der RS 422-Schnittstelle ausgerüstet. Die EPROM-Version muß mindestens 2.1 und die OS-Version mindestens 2.2, empfohlen mindestens 2.3 haben. Außer einem alten Mac muß man ein spezielles Datenkabel und die Software "Sounddesigner for the Emulator II" von Digidesign haben.
VERSION