Asr X Sampler + advanced sequencer
SPECS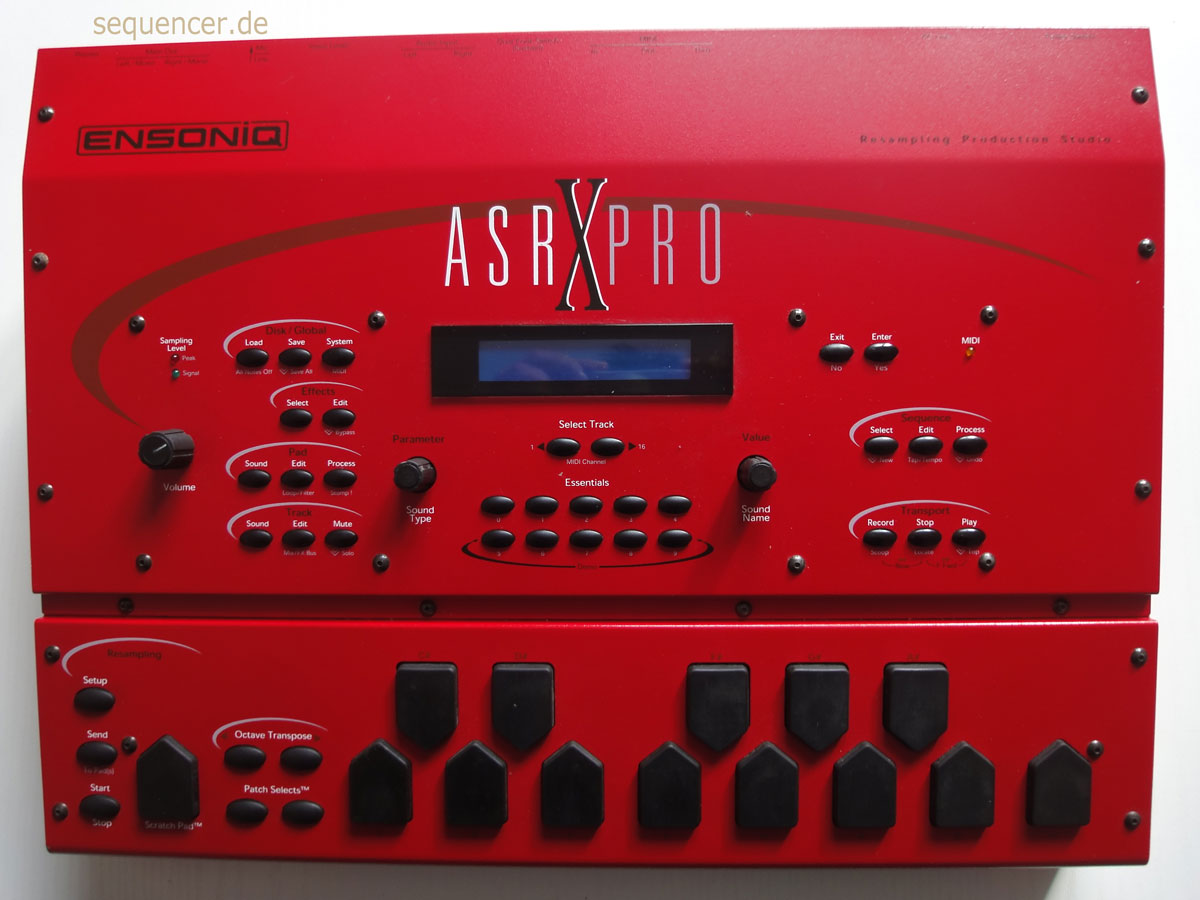 click image to enlarge - Bild klicken zum vergroessern
other ENSONIQ gear..


ABOUT very much like a downsized ASR10 with somewhat reduced architecture when made on the ASR-X, because you can only assign to the Pads instead of the full keyboard.

the Prosoniq and Waveboy Effects will not work because it has a different FX-Chip (shich isn't bad but different) but has resonant filters instead.

fully compatible to ASR10 patches/sounds and will even load full instruments, so maybe a nice addition to an ASR, then?
ABOUT Enstpricht sehr stark dem ASR10, jedoch etwas eingeschränkter beim Mapping, aber Datenkompatibel. Andere Effektsektion, daher kann der ASR-X nicht die legendären Waveboy und Prosoniq Effekte verwenden.

Dafür Resonanzfilter.
ABOUT
DETAILS per voice there are 2 VCOS that have (each) 1 LFO, 3x ENVs and 1 filter, so one layer is 2 OSCs with 6 ENVS and 2 filters , there are 4 layers (called sound), thats a LOT!! the transwave function works like a long sample that is being scanned to get only ONE cycle to "scan" through by envelope.. the result is very much like a wavetable.. very cool digital FX by prosoniq and waveboy for multi delays, reverb, real time stretching, reso-filters and room simulators, some allow very cool lofi FX and digital stuff.. (extra FX not included by ensoniq), loads sounds while playing..
DETAILS jede Stimme besteht aus 2x OSC , 2x3 Hüllkurven,2xfilter und 2x1 LFOs.. es gibt Kombinationen der Filter pro Layer aus LPF und HPF ohne Resonanz. Jede OSC-Struktur kann als Layer noch vervierfacht werden. Die Transwaves werden aus dem RAM geholt und sind Einzelzyklen, die microfein durchfahren werden, wie in einem größeren Sampleverlauf. es ja einfach samples. hat sehr umfangreiche loop möglichkeiten. Die Prosoniq und Wavebox Effekte sind sehr flexibel und bieten von reso-filtern über real time stretching (hat auch ein rechenfenster ,was tolle LoFi FX möglich macht) bis raum simulation,reverb, mehrfachdelays und viele digitale FX. (nicht beim sampler dabei, war extra zu bekommen)
DETAILS
SOUND everything, especially digital FX and loops and DSP fx. but the sequencer isn't really as robust as MPCs and even electribes
SOUND Grooves und Co, allerdings ist der Sequencer etwas wackelig für heutige Verhältnisse
SOUND
VERSION rack und keyboard version, ASR: stereo / 16MB, SCSI racks: standard. OS 3.53 (ASR), FX: third party - waveboy + prosoniq FXL 001 (eps16+) / 002 (asr)
VERSION rack und keyboard version, ASR: stereo / 16MB, SCSI racks: standard. OS 3.53 (ASR), FX: third party - waveboy + prosoniq FXL 001 (eps16+) / 002 (asr)
VERSION