Aviator Analog Synthesizer
Exclusively Analogue
Aviator
SPECS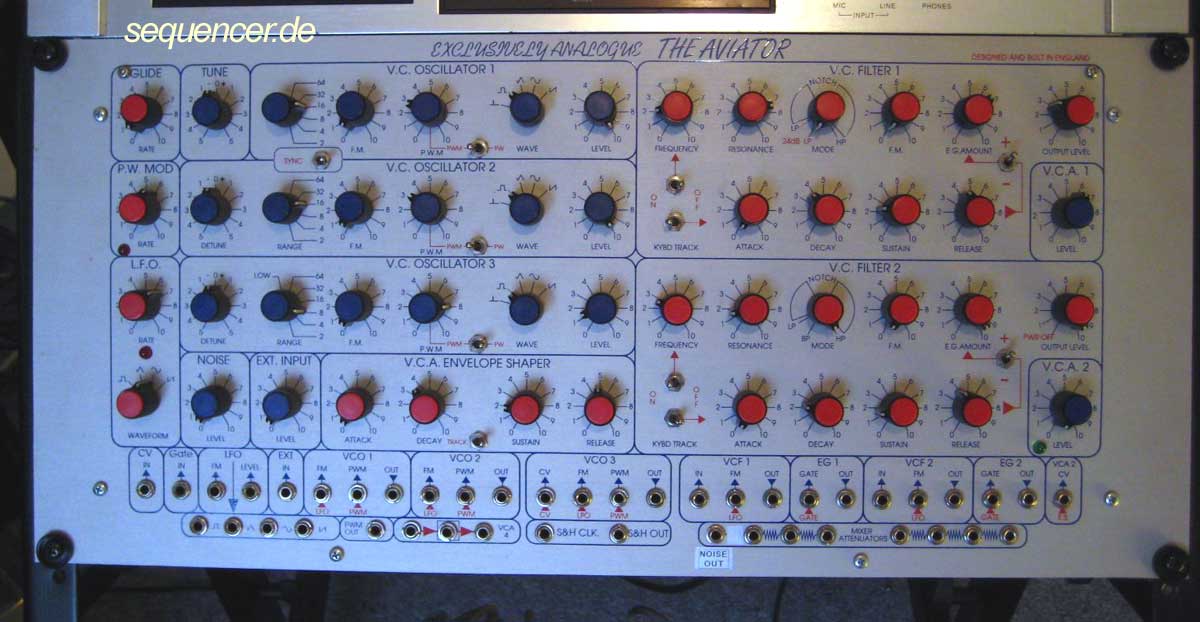 Thx to / Danke an Holger Struchholz (Bilder/Info)
click image to enlarge - Bild klicken zum vergroessern
other EXCLUSIVELY ANALOGUE gear..


ABOUT It's an analogue synthesiser. Tony Wride
from the UK built it.
ABOUT Offenbar bisher einziger Synthesizer von Tony Wride aus UK.
ABOUT
DETAILS 2x VCAs, VCOs 2'-64', 2x Pulsewaves (diff. symmetry)

2 filters with seamless filter type morphing.

has sample & hold as a module!
DETAILS 2x VCA, VCOs 2'-64', 2 verschiedene Rechteckwellen mit unterschiedlicher Symmetrie.

Es gibt ein echtes Sample & Hold Modul.

2 filter:
1:24dB/oct oder 12dB multi (HP -> notch ->LP stufenlos)
2: 12dB bp oder 12dB multi (HP -> notch ->LP stufenlos)
DETAILS
SOUND multiple purpose, monophonic sounds & FX
SOUND vielseitig einsetzbar
SOUND