A4 Analog Synthesizer + analog step sequencer
SPECS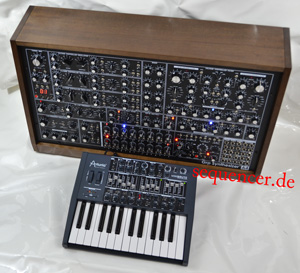 click image to enlarge - Bild klicken zum vergroessern
other GRP gear..


ABOUT this is a halved A8 basically. it does not have doubled areas - it's just straight forward, as far as I can call this "more minimal" - but compared to the A8 it is more affordable and great sounding synth - even though it is still very very special construction (not modular)
ABOUT Es sieht aus wie modular, aber es ist eigentlich ein halber A8, somit um alles, was am A8 "doppelt" vorhanden war reduziert und somit vergleichsweise "erschwinglicher", wenn man das so sagen darf.
ABOUT
DETAILS This (half) monster system has a 24 dB/oct "Moog" Lowpass filter and 2x 12dB/Oct. multimode filter (all 4 types), all analogue. 2 ENVs and 2 CV-LFOs There's a real S/H in there. Has 16 Step Sequencer but with more than one "trigger step"! the only thing that is in the big A8 which is not in here is a fixed filter bank.
DETAILS 2 filter, davon 1x "Moog" 24dB/Okt Tiefpass und ein Multimodefilter mit 12 dB/Okt. Insgesamt 2 Hüllkurven. 2 VCLFOs. S/H gibt es natürlich auch. Sequencer hat 16 Steps mit Mute und Skip und ok, die Festfilterbank aus dem A8 ist hier nicht mehr drin!
DETAILS
SOUND fat basses and leads, percussion
SOUND fette bässe und leads, perkussion und mehr
SOUND
VERSION there are smaller and a medium systems A6 and A3 available. also a bigger one with almost doubled specs plus fixed filter banks, the A8
VERSION gibt auch kleinere Systeme: A6 und A3. und größer (doppelt) als A8. Dann allerdings ohne Festfilterbank.
VERSION