mbase 01 Drummachine/Module
SPECS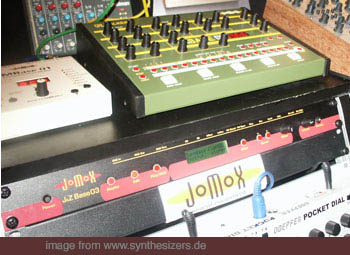 mbase on the left
click image to enlarge - Bild klicken zum vergroessern
other JOMOX gear..


ABOUT this is exaclty the BD of the xbase09, well slightly expanded parameter range..
ABOUT Bassdrum "Version" der Xbase, sonst identisch mit etwas gedehnten parametern, natürlich ohne Sequencer.. steuerbar durch xbase09 (extra 3 tracks im sequencer)
ABOUT
DETAILS can be automated by midi controllers like xbase09..
DETAILS controller steuerbar.. wie xbase.
DETAILS
SOUND fat TR909-style techno bass drums (hard) analogue and flexible..
SOUND fette Techno Bassdrum im Stile der Tr909, aber flexibler
SOUND
VERSION black or white/beige
VERSION schwarz oder beige/weiss
VERSION