Electribe A, EA1Mk 2 groovebox + TR sequencer
SPECS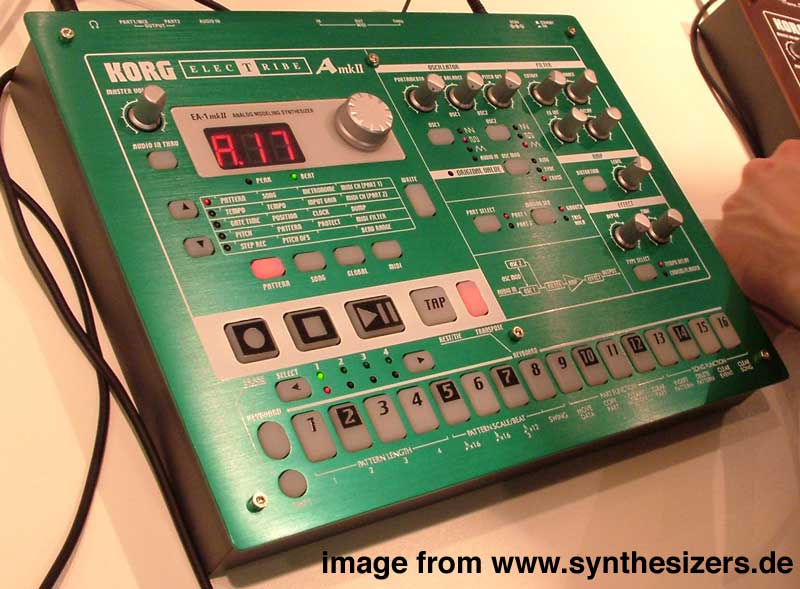 electribe EA1mk2 new look.
click image to enlarge - Bild klicken zum vergroessern
other KORG gear..


ABOUT a little synthesizer, or better: 2 mono synths with 64step sequencer plus Delay FX.

you can control 2 external synths (monophonic of course).
ABOUT Ein kleiner VA Synthesizer, genauer: 2 kleine Lead-Synthesizer mit Step-Programmierung und Realtime mit Delay FX.

2 externe Synthesizer lassen sich auch ansteuern. Eigene MIDI Kanäle für die beiden Spuren sind einstellbar.
ABOUT
DETAILS simple env, filter reso,delay FX,no roll (flam) for repeating steps faster than the grid. 64 steps. sync, ringmod. DIFFERENCE the first smaller tribes (EA and ER) do not provide velocity control ,you need to record the level with motion record!! there is no accent! and no rolls (thats the korg word for retriggering a sound within the 16step grid with double or more speed .. for snare rolls and dnb kind of stuff or autechre like hihat clounds.. uses NRPN controllers (can be controlled by midi). melodies: can only be made with the melody tracks on tribes a,m,mx,sx,a mk2.. if you want it to control midi gear you need them! if you do not need to control external synths you can just record the pitch on an ES1,r,r mk2 and play "melodies" with the drumparts!! no problem! but it will trigger the same midi note..!! the drum parts can also be used for this!! so you can also "play melodies" on any tribe but it will still send only ONE note pitch via midi because the pitch is stored and controlled via "motion control" .. you can reacord midi keyboard played notes or use the step keys as a keyboard or use the step mode..
DETAILS 64steps und einfache Hüllkurve, FX und leider keine "Roll" Funktion, mit der schnelle Wiederholungen möglich sind. sendet/empfängt controller (NRPN).
DETAILS
SOUND very live-able groove tool..
SOUND sehr livetaugliches groove-tool.
SOUND
VERSION there are 2 versions that are exactly the same exept the new metallic look and colour. EA1mk2 (new) and EA1 (old)
VERSION es gibt 2 Versionen mit gleicher Funktionalität aber anderem Gehäuse: EA1mk2 (neu) und EA1 (alt)
VERSION