Electribe Sampler 2S, 2S, Sampler 2S, s 2 Sampler + TR sequencer
Korg
ElectribeSampler2S/2S/Sampler2S/s2
SPECS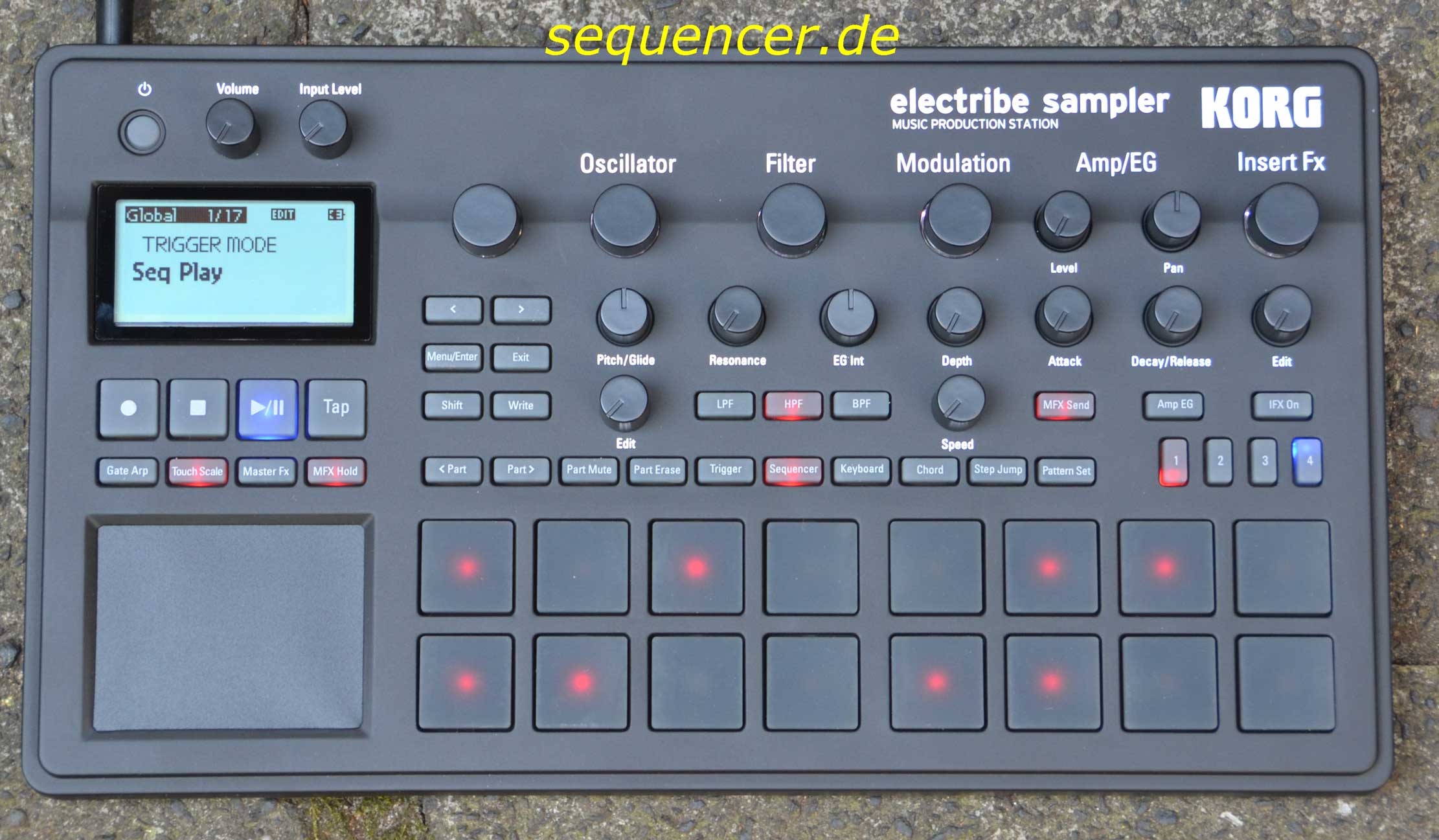 Electribe Sampler 2S, 2S, Sampler 2S, s 2
click image to enlarge - Bild klicken zum vergroessern
other KORG gear..


ABOUT the 3rd sample based Electribe after S and ESX, access and writing patterns while playing (!).

Not to confuse with the grey Electribe 2 with identical sequencer but with more filter types (korg, moog, SCI..) and with more synth features https://www.sequencer.de/syns/korg/Electribe2.html .

4x polyphonic per track compared to monophonic and full dynamics compared to accent or no accent is now possible.

sample length is almost the same - 270 secs which are 48kHz and not only for this reason of higher quality.

slicer/looper or melodic polyphonic track for MIDI/and sampled sound can be used on each of the 16 tracks which is a lot more freedom compared to the previous machine, but there's just 64 steps instead of 128.
ABOUT Die Sample Electribe der dritten Generation nach S und SX, voller Zugriff und Speicherung im laufenden Betrieb,

Nicht zu verwechseln mit der grauen Electribe 2, dem Synth (Nachfolger der MX) aber mit identischem Sequencer!
https://www.sequencer.de/syns/korg/Electribe2.html

Es gibt jetzt Dynamik und 4fache Polyphonie und 16 gleichberechtigte Spuren, die frei mit Slicer / (Loops) oder melodisch spielbaren Samples belegt werden. Das kostet dafür aber auch 4 Taktlängen, denn vorher gab es 8 - nun nur noch 64 Steps = 4 Takte.

Sampledauer 270 Sekunden ist geblieben, aber auf 48 kHz insgesamt besser im Klang.

MIDI kann auch externe Synth steuern, aber man kann keine Controller verschicken.
ABOUT
DETAILS 1 effect per track
16 tracks
1 master effect
freely assignable (thats new) if you want 4 voice melodic tonal samples or loop/slices
DETAILS 1 effekt pro Spur
16 Spuren / Instrumente

frei belegbar (bisher festgelegt): Slice/Loops oder Sample
4stimmig polyphon

DETAILS
SOUND everything with beats and polyphonic melodies
SOUND alles an beats und frickel, dynamisch und 4stimmige akkorde/Melodien pro Spur
SOUND
VERSION Generations:

Electribe S
Electribe ESX1
Electribe Sampler S2
VERSION Generationen:

Electribe S
Electribe ESX1
Electribe Sampler S2
VERSION