KPR77 Drummachine/Module + step sequencer
SPECS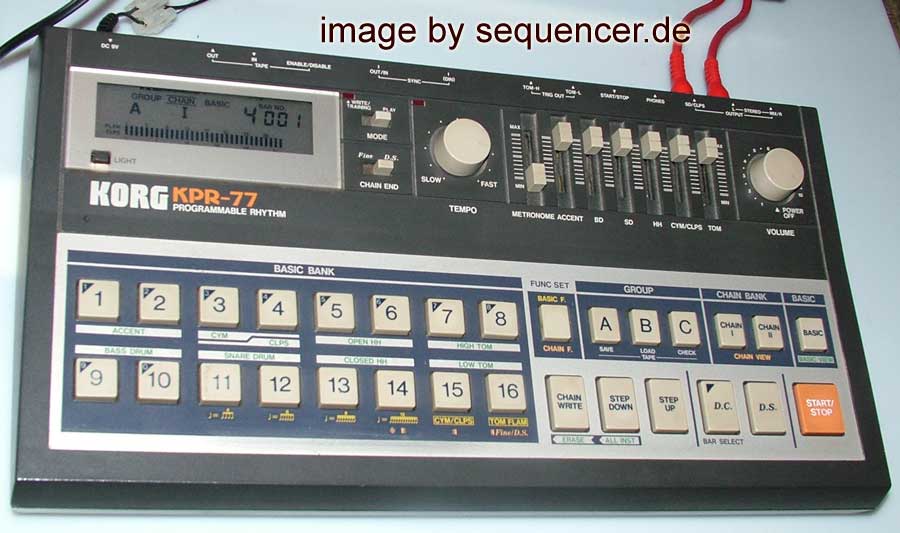 Korg KR77
click image to enlarge - Bild klicken zum vergroessern
other KORG gear..


ABOUT preset Drumcomputer - it was used by depeche mode (speak & spell) and strange disco acts like "divine" or "bobby orlando" or lime3 .. well.. it is somewhat close to roland TR606 and TR808 imho this is one of the most important ones by korg, seems it has not the same cult status as the TR's...
ABOUT klanglich an TR606 erinnernd wurde von dem heute nicht mehr so bekannten "Bobby O" (Italo Disco Sound) oft genutzt, Depeche Modes speak&spell ist ebenfalls hiermit gemacht. die KR ist also schon eine Alternative, nur leider ohne Programmierbarkeit.. leider..
ABOUT
DETAILS 6 instruments, all analogue, DIN sync, trigger out. the sequencer isn't as easy to program as the TRs but it works with step recording..
DETAILS 6 Instrumente, alle analog, DIN sync, trigger out. der sequencer ist nicht ganz so bequem wie der der TRs , aber er ist step-tauglich..
DETAILS
SOUND electro sounds, very 80ies..
SOUND electro sounds im alten 80er stil..
SOUND