MS20 Analog Synthesizer
SPECS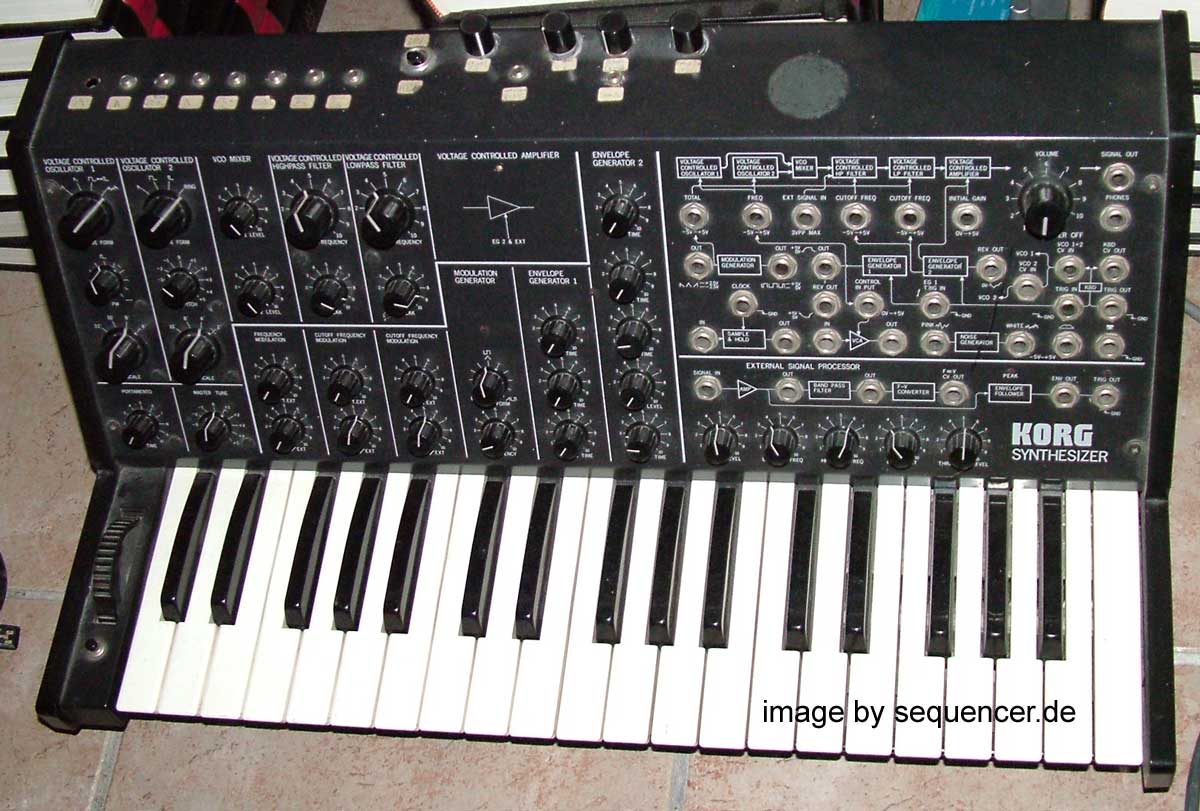 a slightly modded MS20 ..
click image to enlarge - Bild klicken zum vergroessern
other KORG gear..


ABOUT the second generation from Korg, the ms (monophonic series) was the real success since everybody could buy one and lots of bands (new wave etc.) used it or had one as first synth, it's like the C64 was back in the 80ies. aaand a new category was born: semomodular, it stands for a synth that can be patched but still has modules in the signal flow that can not be changed.anyway, very unique sound. from aphex twin to DAF
ABOUT die zweite Generation von Korg, die MS (monophonic series) schlug wirklich ein wie ein Hammer, endlich konnte jeder für 1490 DM einen Synthesizer kaufen, er hatte eine anmutung eines modularen Systems, was er aber nicht war, denn der Signalweg kann nicht aufgetrennt werden, das Wort Semimodular war geboren. Von Cabaret Voltair über div Synthpop und NDW Bands haben ihn alle Kinder der spät 70er/früh 80er meist ihn als ersten Synthesizer gehabt. Der C64 der Synthesizer.
ABOUT
DETAILS nice dirty filters, one LPF , one HPF with Resonance EACH!! the MG (modulation generator = LFO) has a symmetry control, other waveforms must be patched like S+H or noise generator or inverted envelopes. well, no chance to create FM or to rearrange the filter,VCOs or somesuch, thats semimodular

you can only control pitch but not each OSC individually.

CV: V/Hz-Logic, S-trigger
DETAILS Der MS20 hat 2 unabhängige Resonanzfilter ,die wunderbar "kaputt" klingen. über Patchkabel gibt es S+H, Noise und invertierte Hüllkurven. Der MG (LFO) hat einen Symmetrieregler. MG=Modulation Generator. ).

CV: V/Hz-Logik, S-trigger

Der Signalweg kann nicht wesentlich verändert werden, er ist also semimodular. Die OSCs sind nicht zugänglich via CV sondern nur als Ganzes.
DETAILS
SOUND sick and industrial sounds and lots of dirt is what the ms20 can do at it's best, it's a bit different than other synths.. and thats a good thing. the later ones are more "hifi" (lower noise).
SOUND kranke industrielle Klänge liegen ihm ,da er sich immer ein wenig dreckiger und unsauberer verhält als andere.. extreme einstellungen klingen manchmal schon ohne ringmod etwas schräg. die späteren MS20 sind etwas rauscharmer aber auch etwas weniger böse.
SOUND
VERSION virtual version: korg legacy analog collection with software based emulation of the ms20.

The MS20 Mini is a copy (analog) but with MIDI and USB - but smaller with 3.5mm jacks.

There are 2 Filter Versions, the later one is a little daughter board with 2 LM13600 OTAs, the earlier one is the Korg 35 "Dual" Transistor, which is in fact 5 transistors..

MS20M - Desktop without keys but extended synthesis features like FM plus MIDI & USB.

MS20 Mini - like the MS20 but smaller with USB/MIDI
VERSION virtual version: korg legacy analog collection ist die software-version des ms20.

Neu kam der MS20 Mini als exakte Kopie, er ist allerdings mit MIDI und USB erweitert.
Er hat 3.5mm Klinken und ist entsprechend kleiner.

2 Filter-Varianten: Korg 35 "Doppeltransistor" (sind eigentlich 5) oder die spätere Version mit OTAs, die auf einer kleinen Karte untergebracht sind (Typ: LM13600)


MS20M - Desktop ohne Tasten mit mehr Synthesemöglichkeiten - mit MIDI und USB.

MS20 Mini - wie MS20 nur kleiner und mit USB/MIDI
VERSION