MS20M Analog Synthesizer
SPECS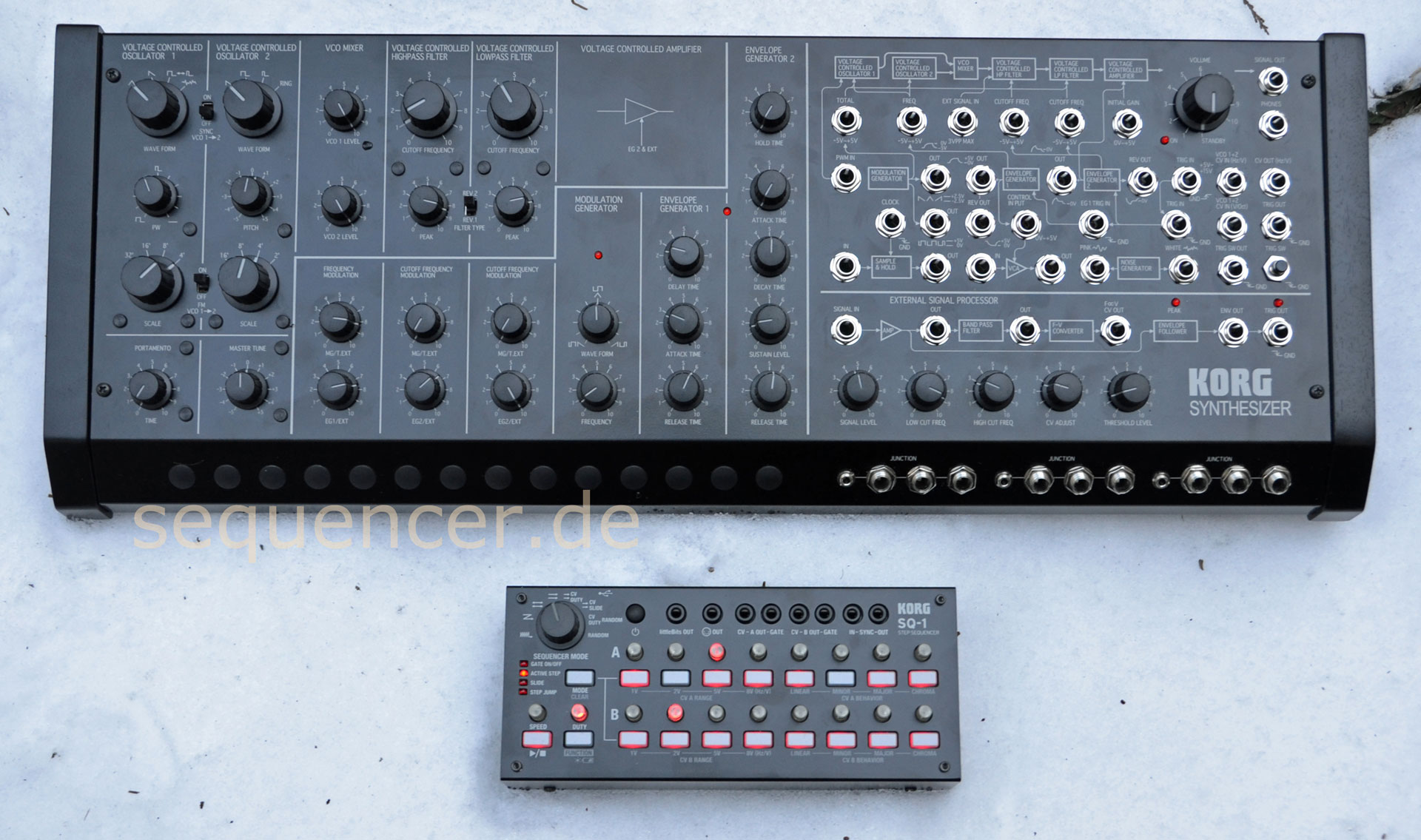 MS-20M
click image to enlarge - Bild klicken zum vergroessern
other KORG gear..


ABOUT The MS20 as a desktop synth with MIDI / USB with minimal implementation of - note on and off (no more). m is for "module" which means it has no keys (expander) - not meant to be modular since it still is pseudo modular (no access to individual pitch controls or audio components) but you can access a lot more than on any previous MS20:

- Pulse Width Modulation input for VCO1
- FM (OSCs!)
- Sync
- V/Oct. input beside the usual Hz/V.
- 2 Filter Modes Rev 1 + Rev 2

until now the MS20M was available as a kit that needs 2h hrs of screw driving but no soldering and adds the SQ1 sequencer in one box.
ABOUT Der MS20 als Desktop-Gerät mit MIDI und USB, allerdings minimal - nur Note on/off, dafür hat der M für "Module" - also gleich "Expander" 3 neue Funktionen und andere Buchsen:

FM, Sync und Pulsbreitensteuerung für VCO1 sowie CV: V/Okt. zusätzlich zu Hz/V.

neu:
- Pulse Width Modulation input für VCO1
- FM (OSCs!)
- Sync
- V/Oct. input beside the usual Hz/V.
- 2 Filter Modes Rev 1 + Rev 2

Bisher wurde das als "zusammenschraub-Satz" mit Sq1 Sequencer verkauft - Bild dazu weiter unten. Das ist nicht schwer, etwa 2h Schraubarbeit ohne löten.
ABOUT
DETAILS nice dirty filters, one LPF , one HPF with Resonance EACH!! the MG (modulation generator = LFO) has a symmetry control, other waveforms must be patched like S+H or noise generator or inverted envelopes. well, no chance to create FM THAT way or to rearrange the filter,VCOs or somesuch, thats semimodular. ).
but you can have an extra FM switch that does VCO FM internally and control it via the MG amount pot.

adds sync - makes VCO2 to be controlled in that mode.

CV: V/Hz-Logic, S-trigger

you can only control pitch but not each OSC individually (so no FM possible).
DETAILS Der MS20 hat 2 unabhängige Resonanzfilter ,die wunderbar "kaputt" klingen. über Patchkabel gibt es S+H, Noise und invertierte Hüllkurven. Der MG (LFO) hat einen Symmetrieregler. MG=Modulation Generator. ).

CV: V/Okt Eingang UND V/Hz-Logik, S-trigger Der Signalweg kann nicht wesentlich verändert werden, er ist also semimodular.

Die OSCs sind nicht unabhängig ansteuerbar, nur die Tonhöhe insgesamt lässt sich steuern, deshalb dort FM möglich. Aber es gibt einen FM Schalter der via Mod FM als einziger MS20 bisher möglich macht.
MG Amount ist dann die Stärke der FM

Neu ist Sync - dann wird VCO2 gesteuert statt beide OSCs.

Der Schalter im Filter für Rev 1 (rauscht mehr, aber hat mehr Obertöne, ist böser), Rev 2 klingt für einen MS20 geradezu "Hifi", deutlich "schöner" und weniger aggressiv - und entspricht dem Modell der späteren MS20-Reihe der statt dem IC35 eine neue Schaltung besaß (auf einer Tochterplatine aufgebaut).

Eine Multiple-Abteilung gibt es auch, um den Miniklinken SQ1 Sequencer anzudocken.
DETAILS
SOUND sick and industrial sounds and lots of dirt is what the ms20 can do at it's best, it's a bit different than other synths.. and thats a good thing. the later ones are more "hifi" (lower noise).
SOUND kranke industrielle Klänge liegen ihm ,da er sich immer ein wenig dreckiger und unsauberer verhält als andere.. extreme einstellungen klingen manchmal schon ohne ringmod etwas schräg. die späteren MS20 sind etwas rauscharmer aber auch etwas weniger böse.
SOUND
VERSION virtual version: korg legacy analog collection with software based emulation of the ms20.

The MS20 Original is bigger and has 6.3mm jacks.

There are 2 Filter Versions, the later one is a little daughter board with 2 LM13600 OTAs, the earlier one is the Korg 35 "Dual" Transistor, which is in fact 5 transistors..

MS20M und MS20 Mini - newer versions with USB/MIDI
VERSION virtual version: korg legacy analog collection ist die software-version des ms20.

Den MS20 Mini und das Original gibt es sonst noch. Diese beiden sind analog, nur nicht gleich groß.

2 Filter-Varianten: Korg 35 "Doppeltransistor" (sind eigentlich 5) oder die spätere Version mit OTAs, die auf einer kleinen Karte untergebracht sind (Typ: LM13600)

MS20M und MS20 Mini - neue Varianten mit USB.
VERSION