Minipops 7 Drummachine/Module + simple sequencer
SPECS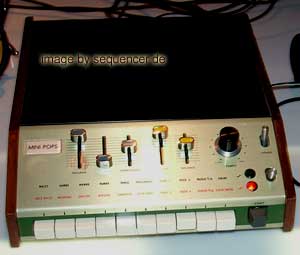 Korg minipops 7
click image to enlarge - Bild klicken zum vergroessern
other KORG gear..


ABOUT preset Drumcomputer - this is the original Jarre minipops .. oxigene/equinoxe instantly created..? here it is.. the Minipops are a series of preset machines with very cute sounds, one of them starts by very soft touch (minipops 7) .. at that time they were more some beat box for organ players..
ABOUT preset Drummachine , von Jarre in Oxygene ziemlich bekannt.. Eigentlich gab es eine ganze SERIE von minipops Drummaschinen, die klanglich nicht allzu weit entfernt waren, alle Minipops-Maschinen sind Preset-Rhythmen-Boxen, manche mit interessanten Trigger-Sensoren (Minipops 5), diese Maschinen waren damals eher Begleitautomat für Unterhalter.
ABOUT
DETAILS 6 instruments, all analogue
DETAILS 6 Instrumente, alle analog
DETAILS
SOUND very Jarre - Style Preset Beats, very cute..
SOUND Jarremäßige Preset-Beats.. typ: niedlich.
SOUND
VERSION lots of Minipops Drum-Machines: 3,5,7,21,35,41,120..
VERSION mehrere Minipops Drum-Machines: 3,5,7,21,35,41,120..
VERSION